Since Francois Arnaud and David Oakes have both been so fantastic during The Borgias second season, it's a shame that the series has had such a difficult time showcasing them in the same episode.  "The Siege at Forli" was yet another example of this mishap as Cesare Borgia was sidelined for the majority of the hour.
From his triumphant return, to his battlefield tactics, Juan Borgia was quite the standout once again.  It felt so good to have him back, especially when his return meant a pet panther and cigars for the pope.  I'm not sure which was more fun, watching the then unheard of cat bite the finger of Lucrezia, or watching Juan explain to Rodrigo and everyone else what the then unheard of cigars were and did.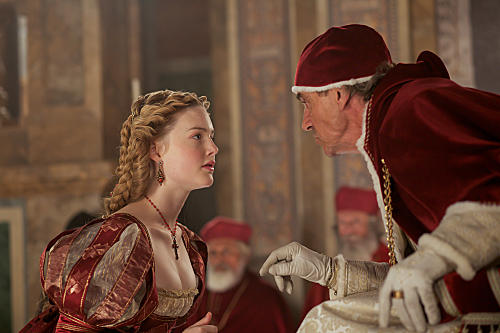 It wasn't all panthers and puffing for the second son, though.  He also made his way to Forli to take out the great Catherina Sforza in battle.  What made his inevitable failure, and the quasi betrayal by his brother Cesare, so epic, was the feeling of superiority he and Rodrigo had going during their fireside chat early in the hour.
The father, sorry Holy Father, was proud that his boy had become a man, and truly felt that Juan was going to wipe out Catherina and take her back to Rome completely compliant.
The fact that Juan used dirty tactics in battle was awesome.  If waving the white flag in peace only to cheap shot Catherina's son, steal him, and ride away had actually worked, I would have commended the coward.  It's kill or be killed out there.  The Borgia boy's plan faced numerous problems, though.
Catherina Sforza was willing to let her son die in order to protect her castle and prevent going to the Pope's Rome.
He had no idea that Catherina had allies coming from behind the Papal Armies to protect her.
Cesare, after finding out about the allies coming for his brother, decided against saving Juan.
For not being in front of the camera for much of the episode, Cesare still had a major effect on "The Siege at Forli."  He could have sent a fast messenger to let Juan know the ally was coming, but no, he used his brother's apparent military prowess as an excuse for not intervening.  In doing so, he basically left the armies for dead, and took a nice jab at his bro bro in the meantime.
If Juan died in that moment, would Cesare benefit from being put in charge of the Papal Army?  Or would the Pope still demand he stay a Cardinal?  Who knows?  Cesare was sure willing to take that risk.
In the meantime, the other stories going on are maturing at a snail-like pace.  Della Rovere has been training his martyr for ages, Savonarola and his kids continued to preach in the streets, and the courtship of Lucrezia Borgia is still moving forward.
With only three episodes remaining in the second season of The Borgias, we can only hope that all of the side plots come to a head in the near future.  We could potentially be in for quite a conclusion, especially if both Cesare and Juan get involved simultaneously!
What did you think of "The Siege at Forli?"  Was it one of the better outings of the year?  Did you miss Cesare as much as I did?  What did you think of Juan's battle tactics?  Sound off now in the comments!
Dan Forcella is a TV Fanatic Staff Writer. Follow him on Twitter.