On last week's The Client List, Riley went toe to toe with the son of a federal judge to protect the secrets at The Rub. 
On "Try, Try, Again" she almost gave it all away by performing an accidental extra on someone not on the list.
The funny part was that Josh Harper certainly handled it well... after Riley unexpectedly handled him. He actually asked her out. At first I thought that was kind of sleazy but he really did seem like a nice guy and they certainly shared quite an ice breaker.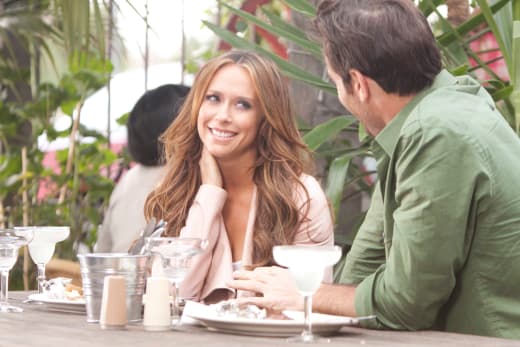 I loved that Riley said yes to their date because, honestly, how much more awkward could things get?!? Thankfully they seemed perfectly comfortable with one another as they talked and laughed over barbecue. That was until she mentioned Kyle and Josh brought up the possibility that he could walk back into Riley's life at any time.
Yeah, Riley's not really ready for dating yet, especially since her double life continued to get even more complicated.
The tin box full of cash in the freezer should have been hidden better. Lacy saw the red flags and she doesn't seem like the type of friend who's going to stop pushing until she gets answers. 
Back at The Rub, Georgia did some research into Garrett. Granted, he was never on the list but his sins were even worse: He embezzled money from his church.
Linette was devastated and lashed out at Riley and that was understandable. But when Garrett tried to work his scam on her, she womanned up and sent him packing.

As she told him in the The Client List quote:
 I've made so many mistakes. Thank God you're not going to be one of them. | permalink
Linette might wear her heart on her sleeve but that doesn't make her a fool.
Evan lost his job and I saw that coming. His boss was a sleazy jerk who had no intention of giving him that raise but would have happily taken advantage of Riley while making fun of Evan for letting her slip through his fingers.
But Evan looked completely blindsided when he found out Riley went on a date. Evan's walking a fine line. Wait too long she may move on with someone else but move too soon and he may destroy any chance he's got with her.
I kept wondering why Jolene was so nervous about a date until Sam walked up. I never saw that coming. It explained a lot about Jolene and I hope we get to see more of her reuniting with her son.
So, what will Riley tell Lacy about that money and do you think Evan should tell Riley how he feels? Let us know before the next The Client List.
C. Orlando is a TV Fanatic Staff Writer. Follow her on Twitter.