A collective editor's note from the staff of TV Fanatic: The following responses are by no means a reflection of our take on the actors and actresses behind the roles cited.
We've simply been asked to name our Least Favorite Character on Television and these stars just happen to play them. In almost all cases, blame those behind the camera more than those in front of it.
Disclaimer over. Answers to follow. Chime in with yours below!
Matt Richenthal: Will Schuester on Glee. I swear, he was an actual human being when this series started, not the equivalent of a painfully boring action figure: pull his string and listen to his next cheesy cliche!
Miranda Wicker: Esther, the Original Witch on The Vampire Diaries who will not stay dead and can apparently control the universe from the after life.
Steve Marsi: Ellis from Smash. Really, this question should have been, "Who is your second least favorite character on television behind Ellis from Smash?"
Eric Hochberger: I supposed that's only for people who don't watch Game of Thrones. Pretty sure the choice is obvious as long as Joffrey "Baratheon" Lannister is on screen.
Dan Forcella: Ellis isn't even one of my top two least favorite characters on his own show. Eileen and Julia from Smash are the absolute worst… wait! I forgot about the irritating to the max teenage son Leo on Smash! Yet another character I hate more than Ellis on this God awful show I keep watching for some reason.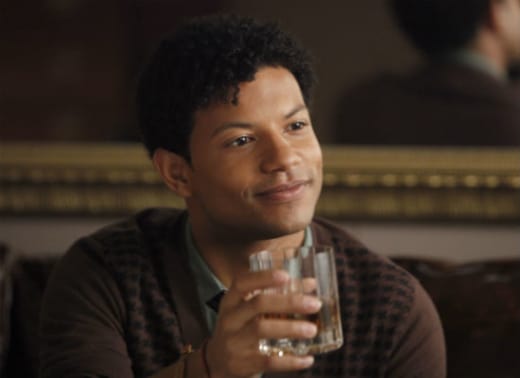 Lindsey Kempton: Character I love to hate: Joffrey Baratheon - Game of Thrones. Best villain on TV right now. Character I just hate: Henry - Once Upon A Time. He's annoying even as a mere plot device.
Leigh Raines: I'm gonna be a real sh*t-stirrer right now but, Blair Waldorf from Gossip Girl. She's a shell of the character I once knew, loved and dressed up as for Halloween. I could elaborate but there's not enough time in the world.
Carissa Pavlica: I'm with Steve on this one. Ellis on Smash. He's not fun to watch or hate. There is nothing about that character to enjoy except the possibility for him to explode in front of a city bus. Fingers crossed!
Christine Orlando: Jack Porter on Revenge. I know he's suppose to be the strong, silent side of Emily's love triangle but I've never liked Jack. He fluctuates between dense and overly sentimental to just plain boring. Coming in at a close second is his little brother Declan.

Christina Tran: April Kepner on Grey's Anatomy. Could she be any more annoying?!? If you're having trouble answering this question, it's obvious that you didn't watch the most recent Grey's Anatomy episode.
Nick McHatton: Ugh, my list of annoying characters is long, but one person stands out among the rest: Lemon Breeland from Hart of Dixie. She never seems to add anything relevant to the story. She just whines and complains. Any depth she has is quickly stamped out because she goes right back to whining.
Jim Garner: I have to say Chloe from Don't Trust the B... in Apt 23. The constant vapidness of the character was something I was worried about and clearly it's not going to soften any time soon.
Arlene Gonzalez: Kevin from The Office. His semi-toothless, crooked smirk and egglike shape are creepy in themselves, but add his slightly pedo-vibe and you have the makings of a colossal "ewwwwww."
Chandel Charles: Daisy on Bones. That girl feels about as intelligent as a box of rocks. She has to be the one character on television right now that really annoys me.
Your turn, TV Fanatics: Who is your least favorite character on TV?