SPOILER WARNING: Stop reading now if you have not yet watched last night's stunning episode of Mad Men.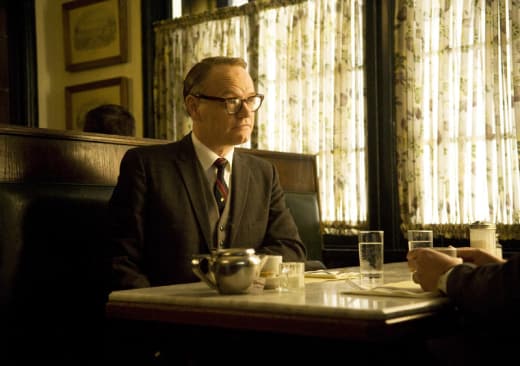 Jared Harris minces no words when discussing the final act of Lane Pryce, the troubled British account man of Sterling Cooper Draper Pryce who took his own life this week following mounting financial troubles and the feeling he'd never rise to a prominent stature within the firm.
"It was a cowardly act," he told TV Fanatic and other outlets on a conference call today. "It was vindictive and it was a passive aggressive…
"His choice of doing it [in the office] was a f-ck you to the office and to Don. And the topper to that was the boiler plate suicide note. He's trying to dig a hole and make Don feel like he was wrong and make them feel as bad as they made him feel."
Harris, of course, has known for months about his character's fate (the actor admitted to us that he's "lying" all this time in interviews) and says the seeds of Lane's demise were planted awhile ago.
"You had a pretty strong sense of a moral code about Lane and he seems to have broken it. That goes back to last season and the night on the town with Don and the way [Matt Weiner] talked to me about that was [Lane] was being corrupted by Don. Once you've been corrupted there's no way of going back."
How did Weiner breaks the news to Harris? With "incredibly expensive brandy," the veteran actor - who was also killed off Fringe this season - said. He also joked that if was difficult to actually remain serious for the climactic scene.
"I just kept wanting to break into that Monty Python song 'Look on the Bright Side of Life' and start dancing. But that wouldn't have been fair to the other actors ... I just had to hang from the door and stick my tongue out. The other actors had to react."
How will the AMC smash follow-up Lane's hanging? Watch the official promo now for next Sunday's Mad Men season finale.
Matt Richenthal is the Editor in Chief of TV Fanatic. Follow him on Twitter and on Google+.