A couple weeks ago, USA Network was kind enough to welcome TV Fanatic to Vancouver and the set of Psych in honor of a major milestone for that series: its 100th episode!
While our set visit was loaded with plenty of Psych spoilers, I've been sworn to secrecy until we inch a bit closer to the Season 7 premiere. Trust me, there's plenty of good stuff (like the Psych musical details!!) in there.
Until then, allow me to tease you with a little diary from my trip...

First, Psych is entirely filmed in Vancouver. All those beautiful shots of sunny Santa Barbara? They're actually filmed in North Shore Studios, with its overcast days, the magic of sets and "shooting down" managing to make it quite believable.
It's also worth noting the show JUST started airing in Vancouver. That's permitted the cast to live relatively normal lives in the city and even allowed them to grow closer as friends than probably any other show on television. The chemistry you see on screen is definitely real.
Our trip began where a tour of the production offices. Yes, apparently those 190 or so people you never see but make our favorite show happen every week have offices on the studio lot.
There, they educated us about the two-week production cycle of the show: one week of preparing, one week of shooting. It's insane when you realize some of the adventures for Shawn and Gus these poor guys have had to come up.
For example, the 100th episode was the much hyped Clue-themed installment. I know, very fitting for such a milestone since Steve Franks has often been quoted as it being his dream episode.
So... the hard-working production staff had ONE week to construct the Clue mansion. It's crazy. You'll understand when you see the episode and hopefully appreciate the detail put into that thing. Let's just say it made me feel lazy for still not finishing painting my house.
After being taken through hallways loaded with upcoming location scouting photos (with so many spoilers!!), we met pretty much everyone responsible for helping make an episode happen.
That's when we were taken to the actual set. Since filming on our day was taking place entirely in the mansion that day, the Santa Barbara police station housed our little team of Pysch-Os. Here's a look from its inside: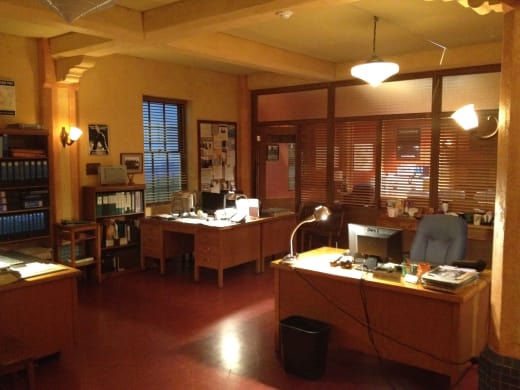 From what we witnessed, it looks like all of Psych is filmed within two lots/warehouses. The police station occupies pretty much an entire one, while the other is reserved for the Psych offices and whatever else they need for the day.
It is worth mentioning (although, again, they may stick Ewan O'Hara on me), they usually kept Shawn's dad's house as a mainstay there too. Now? Gone. So did Henry die during the season 6 finale or what?!?
Honestly, after being on set, I can tell you we still don't know. Since other Psych-Os present have already spoiled this: yes, Corbin Bernsen on set that day. But keep in mind, he might have just been in for the 100th episode celebration (a bunch of people flew in for it!) or there for a flashback. Let's just say there were just as many clues (see what I did there?) pointing both ways.
Back at the SBPD station: we were busy running around being idiots taking pictures at various peoples' desks. Chief Vick (Kirsten Nelson), I apologize for finishing your crossword puzzle, and Lassie (Timothy Omundson), you may want to wash out your mug before you use it next.
One of the most shocking parts about the station was seeing the detail the production team put in. The wanted posters, sticky-notes, business cards and so many objects you probably never see in an episode were all filled in with actual information! I mean, they even had one for LeRoy Jenkins (pictured)!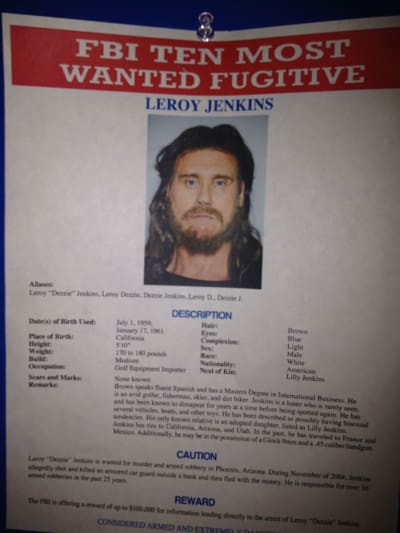 Other fun things we noticed? All the trailers were in the characters' names and not the actors. Of course Shawn and Gus had the largest. Hilariously? Vick and Henry shared one. If the latter is still alive, could that mean something?!?Kidding, of course, the chief is happily married with child...
USA brought in every cast member to sit down with us for some interrogation in the station, along with the show's creator and producers. But more on those when we get closer to the fall.
Meanwhile, I felt compelled to also take advantage of one of the talent perks provided to us: the legendary Kraft services tent. Yes, it was everything a man could dream of. Snacks, sandwiches and drinks all day long. If I had one of those in my house I'd be a very fat man. But I'd also probably not be picking up a sandwich next to Christopher Lloyd or asking Bernsen where I could find a soda.
Before we got to go in to the actual scene they were filming, we got to see the mayor of North Shore present Steve Franks and the other producers with a an official proclamation. Whatever that means.
In the afternoon, we finally entered the Clue mansion to watch the filming. Well, actually, we hysterically got to get out in the Psych office, which was closed while the boys were off investigating.
It was yet another room with unbelievable detail, such as the clippings on the wall of cases. But the reason I was ready to move the TV Fanatic headquarters there? The foosball table and dart board.
On set were several Clue movie alumni, including legends Martin Mull, Lesley Ann Warren and Christopher Lloyd. Though Lloyd may have been the most exciting me me to meet as a Back to the Future nut, it was Mull that had our group laughing the hardest.
We watched them basically film one scene from the episode and they did it all in two takes with three (usually they use two) cameras going. When an actor messed up? He simply started back over with his line (sometimes even shouting out for the line!) as if nothing happened.  
I guess when you're filming with this many guest stars and people all in one scene, it's the only way to go. They leave a LOT in the hands of those masters of editing. Really, it's surreal to think about how what we watch becomes such a polishe shows.
After being in their way for long enough, we got to each a delicious "lunch" at 4 p.m. with the cast and crew from the same delicious food truck they use. Yum to that lobster ravioli.
After getting to interview every cast member and watch a scene filmed, you'd think our day was as complete as any Psych-O could ask for. But nope. We had one last treat. We were invited to the 100th episode cake and champagne toast, complete with mingling afterward.
Then it was back to our lovely hotel and my dreaded 14-hour flight home. I cannot wait to watch the finished product of this episode after seeing just how much goes into one hour of television entertainment.
Oh, and I can't wait to share our amazing cast interviews with you. Stay tuned!
Eric Hochberger is the programmer of TV Fanatic, so please forgive his mediocre writing. His programming is far better. Follow him on Twitter and/or email him. Just don't request threaded comments. They're coming.