On last week's episode of The Big C, as Paul Jamison was finding his voice as a motivational speaker in San Juan, he told attendees to enjoy the heck out of life because "we only have so many breaths" on this planet.
So, along those inspiring lines, I must now announce: I think I must "Fly Away" from this Showtime series following a lackluster conclusion to a disappointing season.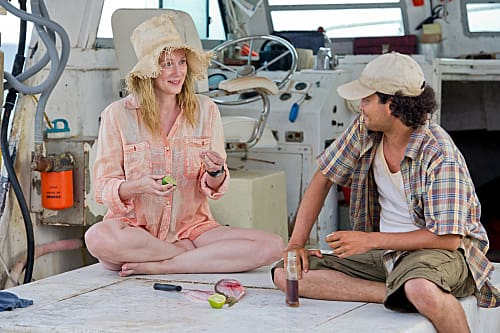 As I wrote throughout Season 3, The Big C veered far away from a show about a woman dealing with her cancer diagnosis. It went in a number of unexpected, far out there directions, from a phony pregnancy scheme to a sudden bus accident.
And while the finale remained far more grounded than past episodes, it didn't give me any gripping reason to tune in for Season 4 (if there is one; Showtime is yet to renew the series). It did, however, make me dislike Cathy even more than before.
This is one selfish woman.
It was somewhat interesting to listen to Cathy discuss how awkward life as a cancer patient can be - does she give in to the tears? Fight them off for the sake of her family? Celebrate life? Mourn impending death? - and I wish the season had focused more on her internal struggle than the aforementioned random events.
But I see nothing noble or interesting about a woman who simply abandons her son and swims off with a stranger. She walked a few feet, saw how unappealing supposedly real life can be, realized she doesn't fit in anywhere at this point, and decided to get away from it all? I could maybe have bought this if there was more build up.
Moreover, the entire construction of the finale was contrived. I don't consider it brilliant or creative writing to simply have Cathy stuck with a man who only speaks Spanish, giving her the opportunity to just run down her life in an expository manner for the audience. This is telling, over showing, at its worst. It's boring and it's lazy.
So I likely won't be covering The Big C again next year, if there is a Big C to cover. I remain an enormous fan of Laura Linney and the cast in general, but this is a show that lost any semblance of direction for me on Season 3.
What did everyone else think?
Matt Richenthal is the Editor in Chief of TV Fanatic. Follow him on Twitter and on Google+.