The Borgias Exclusive: François Arnaud Teases New Cesare In Season Finale

Dan Forcella at .
"I can assure you that Cesare's drive and anger isn't diminished in any way," François Arnaud told me over the phone earlier this week.  
The star of The Borgias went on to say that his character, after murdering his brother Juan last Sunday, has "grown into the warrior that he will be."
Arnaud said that Cesare killing Juan "was a beautiful moment."  Although it was indeed the horrible act of one brother gutting the other, Arnaud believed "there is that final embrace that I think helps letting go in a way."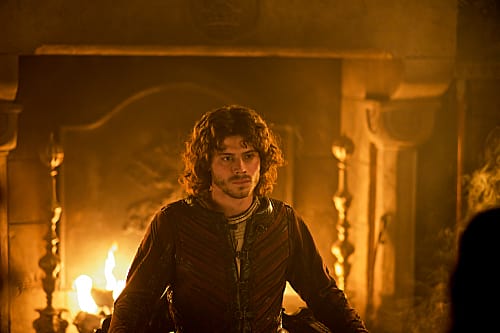 We will all have to let go of Juan, and the great performance by David Oakes, as Arnaud realized, "It's very hard to imagine The Borgias without him. He's been the one who drove Cesare to become what he is now."
Who is that? The aforementioned warrior? "In the finale, you see a new Cesare," Arnaud teased. 
But what else can we expect this Sunday night in a season finale titled "The Confession?"  
"There are two confessions," Arnaud assured audiences. "There's one involving Savonarola, and the other is Cesare's confession.  Of course one can not expect something like that to go smooth.
"Obviously there are consequences, but I think Cesare, at that point, is willing to face them.  He's not making excuses for what he is anymore, and what he wants to be."
I don't know about you all, but I'm expecting plenty of action out of the always entertaining Cesare in this week's season finale.  But what about after that?
Whereas season two has focused a lot on the internal struggle within the Borgia family - specifically between Juan and Cesare as of late - Arnaud said, "I think in season three [the family] will stick together more."
Whether that is actually how the story plays out or not, and whether sticking together will be more entertaining than the in-fighting we've watched lately, is a question for a later date.
For now, get ready for the season two finale of The Borgias this Sunday at 10:00 p.m. on Showtime. Be sure to return to TV Fanatic for a full review of the episode!
Dan Forcella is a TV Fanatic Staff Writer. Follow him on Twitter.