I could never bring myself to criticize Vince Gilligan in any way, shape or form, but I have to admit that my initial response to the latest Breaking Bad episode, "Hazard Pay," was this:
We get it.
Walt has made the official move from Mr. Chips to Scarface, which is how the creator pitched/sold his vision of the series to Bryan Cranston years ago. And the opening three episodes of Season 5 have done all they can to hammer this point home.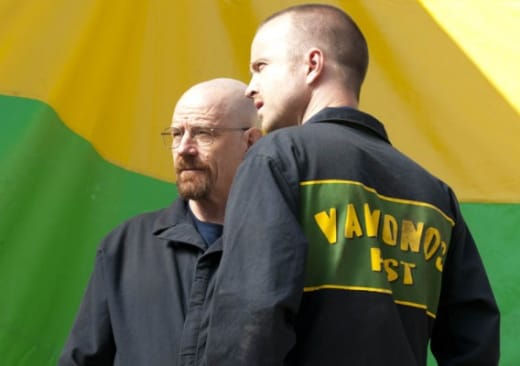 I was enraptured by the premiere, which featured an uber confident and dangerous Walt; and also taken by last Sunday's installment, which honed in on Mike.
But this episode didn't move very much along. Yes, it set in motion a genius plan for how Walt and Jesse would cook their operation's product, but it mostly served to once again remind viewers of just how cold-minded and manipulative Walt has become. Heck, it even showed him watching and marveling at Scarface! Again: we do get it by now.
And I love it, trust me. Walt is pure evil, setting up Skyler as the bad guy when Marie confronts him over her sister's breakdown... toying with Jesse's mind and prompting him to break up with Andrea... making it clear at the conclusion that he's not afraid to slit Mike's throat. Or Jesse's throat, really. Walt has made the full evolution into the antithesis of Mr. Chips.
I'm just ready to now see where that takes him.
Unlike Mike, who is committed to "his" guys, and unlike Jesse who would jump off a cliff for his mentor at this point, Walt has no loyalty. He has no regrets (nice to meet you, Brock!) and he has no care in the world aside from being number-one. The man who kills Jesse James isn't automatically Jesse James? Mike couldn't have said anything more hurtful or irritating to his unstable business partner.
It's chilling to watch Walt stroll back home like he's invited, asking Skyler to sit down and watch her worst nightmare unfold: this dark man bonding deeper and deeper with her two kids. It's not even clear at this point whether Walt is aware he's a monster and is just toying with his wife, or if his ego allows him to truly believe he's welcome in her life and in the lives of their children.
I'm leaning toward the latter. His hubris makes him clueless about reality, whether that's his personal life or his professional world, where Walt clearly thinks he's invincible.
We all know that isn't the case, of course, not after the cold opening to kick off Season 5. Months from now, for whatever reason, Walt will be a disheveled, nervous wreck in need of a machine gun. I have no idea why and we're not meant to have an idea why.
But in only an eight episode summer season, the first few hours have really given us no hint whatsoever.
Yes, I could watch a nervous Saul vent about the Three Amigos becoming four for hours. And I appreciate the depth the series has given Mike in just two weeks. And Skyler screaming at Marie to just SHUT UP was tragically mesmerizing. But I am growing a bit anxious for the action to pick up and the stakes to be raised.
We know Walt White is now akin to Scarface. But just who will he be introducing to his Little Friend in the near future?
Matt Richenthal is the Editor in Chief of TV Fanatic. Follow him on Twitter and on Google+.