Rizzoli & Isles is having one of its best seasons yet and the reveal of Maura's biological mother is definitely a part of that success.
"Money Maker" gave us a salacious murder wrapped around the growing relationship of Maura and her new family. Yes, I said family because not only has she made contact with bio mom Hope, she also has a half sister.
At first I couldn't figure out why Hope dragged Kaylin back to the States. She's a college student. She certainly didn't need to be taken care of by mommy but then there was the big reveal: Kaylin needed a kidney and suddenly the trip back to Boston made sense.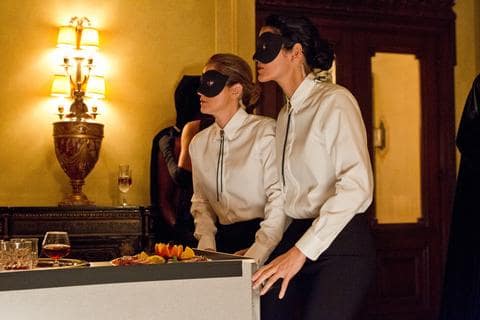 I actually ended up liking Kaylin. She was angry, sullen and stubborn. Everything I'd expect from a teen who felt life had dealt her a bad hand. I also knew she'd find that picture in Maura's bathroom. Doesn't everyone snoop through a stranger's bathroom?
The kidney transplant issue could have been used to pull this family together and I have little doubt it may end up doing so in the future. Presently, I'm thrilled with the rift it's torn between this threesome. 
Kaylin felt betrayed by the sister she'd thought was dead and yet could still never measure up to. And I really felt for Hope. She thought her child died! Then there's this woman standing there telling her that's not the case. 
She must have thought Maura was crazy and, given intense concern for Kaylin, it was no wonder she became completely overwhelmed. 
I enjoyed the angst of this family drama because it felt real. This storyline could have become cliched but some good writing and very talented actresses have elevated it to something more.
Even the murder story was fun tonight. It was a financial ponzi scheme with a sex club twist. These boys were determined to find plenty of ways to cheat.
Guest star Monet Mazur somehow made her realtor /call girl/mistress believable and fun. I was sorry to see her end up dead in the pool.
Did Maura seem a little too fixated on the call girl life? She gushed over the clothes and the leather accessories. From the sound of things I'm guessing Eddie Cibrian's character is long gone. I can't say I'm disappointed in that but Maura definitely deserves a worthy love interest.
Of course, she always has Jane, who went from putting Hope's reaction into perspective for her best friend before reminding her that family sucks and then joking about how good her kidney was. At least for now, Maura's got the love and support she needs.
C. Orlando is a TV Fanatic Staff Writer. Follow her on Twitter.