With The Closer nearing its end, "Fool's Gold" provided the extra benefit of one of the goofiest victims of a crime ever to be seen on this TNT smash.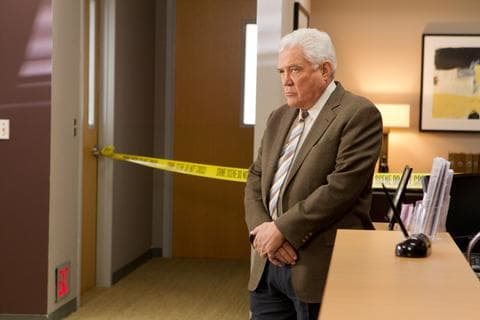 Mr. Cooper was cartoonish and seemed to be acting for an audience in theaters far away from the main stages of Broadway. The looks on his face, the whining, the wheezing and dramatic hand gestures reminded me of the dastardly villains that I used to watch on Scooby Doo as a child. In an amazing turn of events, he out-quoted both Flynn and Provenza, almost making them look intelligent in their botching of the case. Quite amazing, wasn't it?
Check out The Closer quotes to relive some of the fun.
In the greater scheme of things, this was a throw-away episode. One of the best of the best tosses we could have received. The entire squad running through a front yard after a dog, while a victim/thief was on his hands and knees alone wondering exactly what the hell was going on, was priceless, comic Closer at its most entertaining. 
If I wasn't mistaken, it almost seemed like Provenza and Liz might be interested in rekindling their old relationship. After seeing Brenda teasing Fritz into her office with questions about what federal property she was allowed to touch, you could see a little weakness in Liz's eyes. Follow that with Provenza putting her wedding ring back on her finger and maybe he'll end the show with something solid in his life, if only the surety of a ride home after hours of drinking at the bar. 
With the fun we had tonight, and the drama left to unfold, this might have been the last chance we had to take pleasure in the team enjoying each other as friends and coworkers. As the Johnson Rule weighs down upon Brenda and the leak within the department bubbles ever closer to the surface, what lies ahead is anybody's guess. 
Carissa Pavlica is the managing editor and a staff writer for TV Fanatic. Follow her on Twitter.