The writing on "Hostile Witness" was extremely tight and you could feel the tension inside Brenda waiting to explode with her every breath.
With the Johnson Rule behind her - or rather stuck upon her every working moment like a piece of gum on the bottom of her shoe - Chief Brenda Leigh Johnson walked around this episode of The Closer with a whole hive of bees in her bonnet.
As the final six episodes come to a head, the reintroduction of of Phillip Stroh felt like a wicked taunt to from someone wanting to prove Chief Johnson "ain't all that." There were very few cases during the run of The Closer that weren't actually closed.
When the City of Los Angeles forced Brenda to comply and acquiesce to the Johnson Rule, they did more than break her spirit. They broke her faith in the system. She no longer believes that being on the side of justice will necessarily bring the desired results and watching her deal with the consequences of that federal lawsuit is almost painful.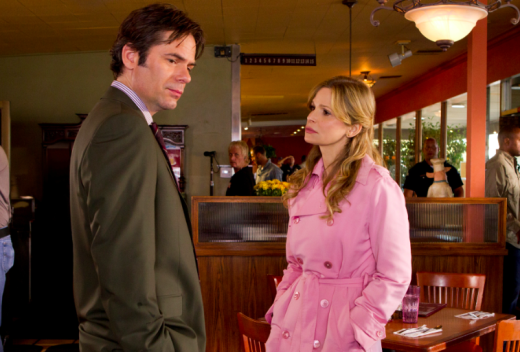 Stroh is the worst of the worst. As an attorney who commits crimes by duping dumbass criminals into doing the dirty work with promises that he'll clean up his mess, he has the best of both worlds. He has access to all the bad guys he needs to get his fix - and knows all the rules to skirt around getting caught.
Every time he hid DNA from Brenda by tossing his glass and napkin into murky dishwater, I wanted to break his fingers. That Brenda didn't pull out her gun and blow him away shows how much restraint she possesses, and yet at every turn Pope had watchful eyes ensuring she was towing the line.
Sharon Raydor has become an unwilling water pistol to Brenda Leigh's hornet's nest. With every pull of the trigger Pope makes through her, the buzzing in the background gets louder. How far into the six episodes will we get before Brenda breaks? 
As for Stroh, I was rooting for Brenda to get her man. When that blank look came across Natalie's face at Stella's Bar, I was hoping anything would light it up. Was it the cocktail? Did he need to wipe his face in a certain way? The smug look he had when she recognized the second man as an employee of the bar rather than himself wasn't enough. Stroh had to rub Brenda's face into his "win" with this Closer quote: 
Drugging women to have sex with them. I don't understand it. It's just so...unsporting. Not to even give them a fighting chance. | permalink
Not everything has changed in major crimes, but the lifeline leading the division has most assuredly; Brenda Leigh Johnson is a wild card. The more Pope pokes her, the more she's going to want to find ways around her very own Johnson Rule. Do you think we've seen the last of Phillip Stroh? Will she stop trying to land the one that got away? Will that case be the downfall of her career, but the conclusion to which that will allow her to retain her dignity and integrity?
We have five more episodes to find that out. We also need to learn the identity of the leak. It sure looks more like Pope all the time, doesn't it? To me, that's almost such a foregone conclusion that we're clearly on the wrong path. What are your thoughts for the final five? 
Carissa Pavlica is the managing editor and a staff writer for TV Fanatic. Follow her on Twitter.