The evidence is clear: White Collar is back in full swing and the momentum propelling it forward this summer is more compelling than ever.
Jeff Eastin and company can rest assured that they won't be receiving "Diminishing Returns" on their investment in plot and character development on Season 4.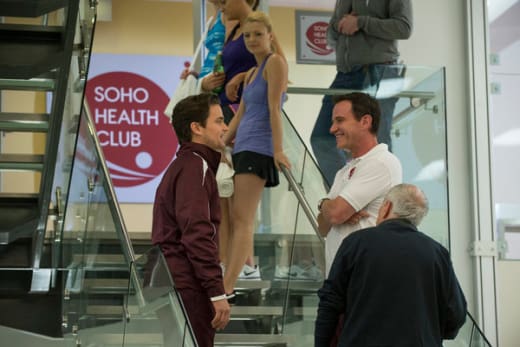 We all knew Peter wasn't going to get off lightly after disobeying direct orders not to go after Neal, but I had no idea that it would result in banishment to "the cave."
Poor Peter! With Agent Patterson breathing down his neck, it's a wonder he was able to get anything done. Then again, he did have a little bit of help from Neal and Mozzie. But with any luck, Peter might get out of Evidence sooner, rather than later.
The fact that Peter went against orders in the first place says lot about how he's developing as a character. His transition from uptight and rule-bent agent to rogue search party of one is the subtle but true explanation for his behavior. Peter is now privy to the alternative methods of operation, making part of his FBI playbook.
We saw him last week as a bartender, and now we've seen him as a squash-playing well-to-do criminal named Peter Morris (most creative name ever!). The best part is, with a few new tricks he learned from Neal, he was able to catch the thief who had alluded him for a decade.
Not only was Neal a fresh pair of gorgeous eyes with which to see the case, but he was determined to solve it on Peter's behalf because it was important to him. The gesture only solidifies their relationship as one of mutual respect and genuine manly affection - almost father/son.
Speaking of father's, I was intrigued by the bombshell information revealed about Neal, his life before age 18 and what really happened to Neal's father. Apparently named James, Neal's dad confessed to a murder that his partner, Ellen, isn't actually sure he committed. While we're left hanging on for Ellen's answer, the fact that Neal equates knowledge of the truth with his own identity is going to make the answer critical.
Peter said to the panel during Neal's commutation hearing in the season three finale that treating him like a criminal would always make him think that he is one. What we haven't stopped to consider is what impact it might have if he thinks it's part of his DNA? Would it be a game-changer, or will it only edify who and what he already perceives himself to be?
What struck me about the conversations between Neal and Peter was learning that he grew up his whole life as Danny Brooks, and perhaps most shockingly, spent his whole life in witness protection. No wonder Neal is so skilled in pretending to be other people, he spent his whole life playing a role. It all finally makes sense.
Other highlights from the episode:
MOZZIE's BACK!
Neal teaching Peter those signaling tricks. So tempted to try them for myself!
Mrs. Suit. When isn't Tiffani Thiessen a highlight?!
Michael Weston guest starring.
Mozzie sneaking into evidence to finish Peter's work.
Peter playing squash.
Neal in athletic wear. Track suit was a plus.
Seeing Neal slip back into that sexy suit and tie.
I am engrossed in the plot unfolding this season. Do you think answers about his father will fundamentally change the way Neal perceives himself?
C. Charles is a TV Fanatic Staff Writer. Follow her on Twitter.