Damon Salvatore will likely hit the bottle hard on The Vampire Diaries Season 4.
And not just in this fun, fan-made video.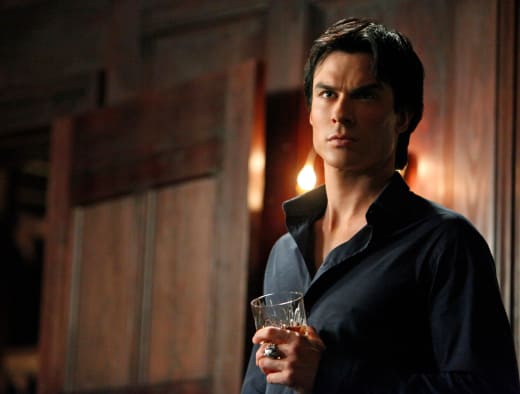 Speaking to TV Line, Vampire Diaries producer Julie Plec made it clear that Damon's attempts to open up last season - which went for naught when Elena chose Stefan - will be a thing of the past when TVD returns in October.
"Damon is the Damon of Season 1, minus the posturing and posing," Plec previews. "He just is. He is who he is. He's got attitude. He's always right. He's rarely wrong."
Don't expect this Salvatore sibling to be apologizing for any actions any time soon.

"This year is going to be very much about, 'You don't like me. You want to judge me. You don't like who I am, how I do things? Well, screw you," says Plec.
"It's going to be a great shift for him... He's still going to be the Damon we know and love - he's still going to be kicking ass and taking names. But he just has this devil may care attitude about it. He's just not going to change for anybody anymore. He did that. That's over. That's so last year."
And this year begins on October 11. Are you excited for the new/old Damon?
Matt Richenthal is the Editor in Chief of TV Fanatic. Follow him on Twitter and on Google+.