There are only two weeks left of The Glee Project after tonight. Of the remaining six contenders, only two men are still standing, Michael and Blake, and only one hasn't performed Last Chance for Ryan: Shanna. Can she keep her streak alive this week? Will one of the guys go on to win it all?
Let's find out...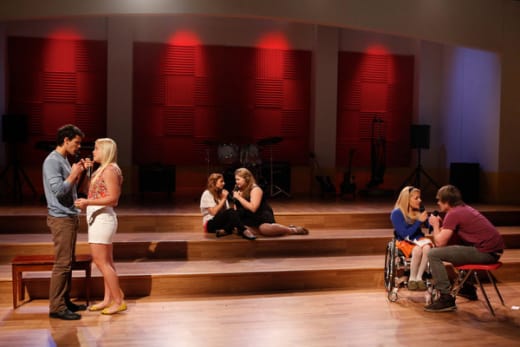 This week's theme is Romanticality. If you watched last year, this is the week that sent fan favorite Cameron home by his own choice. The six contenders this year are not Camerons.
After Robert gives the group their Homework Assignment--"More Than Words"--the contenders decide to pair up. When Blake doesn't make eye contact with Lily when everyone's pairing up, Lily and Aylin decide to work together. And to shock everyone, they decide they'll kiss during their Homework performance.
Nuno Bettencourt is in the house to accompany the contenders on guitar. Darren Criss is in the house to be their guest mentor.
Darren said Michael and Shanna seemed stiff. Aylin and Lily were melodramatic. Ali and Blake were playful and believable. Darren named Blake the winner of the Homework Challenge.
The Big Group Number is Rihanna's "We Found Love" by way of The Breakfast Club. Because Blake won, he gets to pick his partner for the video and he chooses to keep working with Ali. Darren pairs Michael with Lily and Shanna with Aylin.
During choreography, Blake and Ali seem to be the favorites, much to the chagrin of Shanna who "does not get negative feedback."
In the studio, Nikki plans to have the contenders sing harmony and knows that this will give some of them trouble since they've probably never done this before. In the booth first, Aylin has an easy time laying down her vocals. She's not going to have such an easy time when her family watches this show. Shanna can't seem to hit the note and struggles. Michael nails it and so does his partner Lily. Ali's done quickly, but then Blake can't get his vocals right.
As the video starts to role, Erik says he needs to see chemistry and "little moments" from everyone. Michael and Lily work really well together and receive compliments from Robert and Zach.
Blake's a little nervous coming off the booth with Nikki, but his session with Darren seemed to help him. Except he dropped that he has a girl friend back home so fangirls all over the place just cried.
Shanna and Aylin get a "cut" from Erik because they don't seem to have much chemistry and they're acting too much. The two of them together is a tough sell, but it seems like Robert, Zach, and Nikki know that. All three of them comment on the fact that there are only two guys left and toy with the idea of throwing both of them in the bottom three so they can fight it out for Ryan.
The video comes together really well and all of the lack of chemistry between Shanna and Aylin is edited really well. The most believable couple, though, has to be Michael and Lily.
Robert says that all six of them have the talent and the potential to win, but only some of them excelled on set. Lily and Ali are both called back. Michael gets the repeat note that he's "stiff" and Blake had a bad week in the studio with the harmonies. Aylin overdid it with her homework with Lily. And Shanna was both stiff AND overdone.
Shanna, Aylin, and Blake will be performing Last Chance numbers for Ryan. Shanna's streak is broken. And one of the three of them will be going home.
Aylin had two hours to learn "The First Time Ever I Saw Your Face." She forgot the words part of the way through. Ryan and Robert ask her about the fact that she's Muslim and whether or not she's prepared to deal with any backlash from being on the show. In a word, yes, Aylin says she's ready.
Blake was given "Losing My Religion." He does an okay job. It's just kind of a boring performance. (In his defense, Michael Stipe set the bar high.) Ryan tells him that he needs to show his vulnerabilities because those are what are interesting to write to.
Shanna sings "Stronger." First, she looks amazing. Second, she jumbles up the words. She never stops singing, but she doesn't get the lyrics right. She knows it. Ryan asks her how she feels about being in the bottom three and she says she was shocked to be there. When she was asked whether she thought Michael should've been there instead of her, she said yes.
We're down to the point now where someone has to go home every week and the person who does go home will probably be someone we could very well see on Glee. This is the part of reality shows like this that I hate. There's no contestant that I WANT to see go home each week and I could justify any of them winning.
Robert posts the list and the walks begin.
Blake is safe. Aylin is safe. Shanna's going home.
I'm shocked but not shocked. She was fantastic, but she didn't do anything to make herself stand out aside from avoid the bottom three week after week. I do wish her the best.
So, who would YOU have sent home this week?
Miranda Wicker was a Staff Writer for TV Fanatic. She retired in 2017. Follow her on Twitter.