Pardon me while I try to wrap my head around the ending of "Jane's Getting Married..."
When we heard the cliffhanger for this year's Drop Dead Diva season finale would be unlike any other, never could I have imagined those last few minutes. Before we go any further, I feel the need to give anyone who hasn't watched a MAJOR spoiler alert.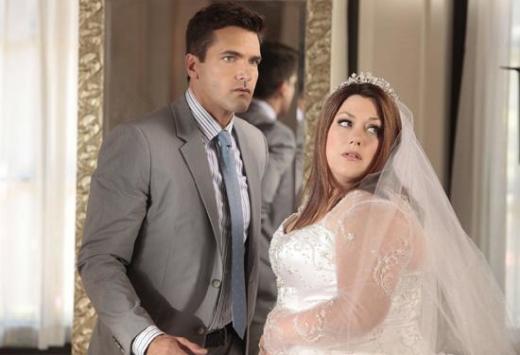 April Bowlby told me in an interview that the original Jane would later make and appearance and that she is pissed. I'd say that was a very accurate description. My question is: if original Jane was given the option to move on to a peaceful place or stay and watch what happened to her body, why would she torture herself? Why would anyone ever want to watch someone live their life for them?
I guess to the viewer, it seems like Deb improved Jane's life. She injected some fun, liveliness, confidence and love into a void. The only real problem is that Deb was hanging onto her past too. More specifically, Deb was hanging onto Grayson.
Do I believe she really loved Owen? Yes, absolutely. Do I believe you can love two people at once for different reasons? Yes I do. People in your life give you different things. I found it really interesting that Luke asked Deb the night before her wedding, if she would choose her new life or old life?
This whole episode was about make decision. No matter which road you travel, you will gain certain things and lose others. Would Hannah rather be smart and possibly die in six months than bus for tips at a bar and be with her husband? Would Kim rather tell Parker the baby wasn't his even though it was? Obviously we watched both of these people ultimately choose love, so is that what it's all about?
It's been four seasons and Grayson has finally confessed his love to Jane, Deb's Jane. Was having her dress stuck on that nail some sort of divine intervention? Clearly the guardian angels aren't controlling all that much if it's so easy to push a return button. Now where does she go?
Well... the choice isn't quite up to her since Owen caught the kiss, had a heart attack and was resuscitated as the original Jane. I'm still totally baffled at this, but I do know it means major consequences for next season.
As far as the storyline with Chelsea Kane, it was great but I think it would've gotten more attention in another episode. It deserved more attention than it got. 
Those are my thoughts on the finale and I'm interested to hear all of yours. Hit the comments and we'll see you next season!