Jim's Notebook: Scoop on Dexter, Vampire Diaries, Happy Endings & More!
Jim Halterman at .
It's time for Jim Halterman to empty out his notebook again.
In this edition of our new weekly feature, the television guru delivers juicy snippets about Dexter, The Vampire Diaries, Happy Endings and the new CBS sitcom, Partners. Let's open it up, shall we?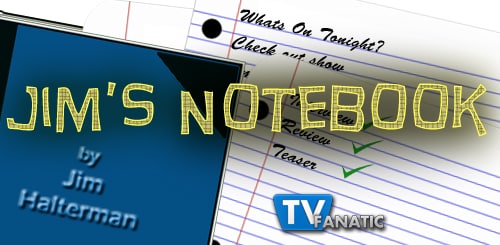 DEXTER: The words game changer get thrown around a lot in television whenever a series takes things in a new direction, but they perfectly fit Dexter Season 7. As if you needed reminding, Deb finally stumbled upon her brother's secret serial killer hobby... so how will that change the relationship between these siblings?
"They're both very intelligent people and you have to keep in mind that Deb is a detective and she's very smart and she is very good at unraveling secrets and mysteries and lies, Executive Producer Scott Buck told me. "But she has never dealt with someone like her brother before."
I suggested that it's going to be interesting to watch so much of this season through Deb's eyes as she looks at her brother differently. And Buck agreed.
"She's just now finding out that so many things she has believed about him all of these years are complete lies down to the point that she doesn't know what's the truth and what's a lie anymore. She doesn't know what to believe of what he says whereas Dexter has had a whole life of spinning stories and telling lies and avoiding detection but Deb is not going to be a pushover by any means. Also, they both really care about each other very much."
THE VAMPIRE DIARIES: The Vampire Diaries Season 4 premiere, but the good folks at the CW brought star Kat Graham to their offices in Burbank to chat with reporters and I grabbed a few minutes with her. Because all TVD cast member are well-versed at not dropping spoilers, I asked Graham if she is still surprised with Bonnie and if the writers would be showing us new sides to her.
"That's an understatement," Graham explained with a smile creeping across her face. "Julie [Plec, Executive Producer] is pretty amazing. While were shooting the first episode back, she sat down with all of us and told us some of our bigger arcs and what they were going to be and she totally surprised me. It's so funny, she had been talking even two years ago about things she really saw for the character, that she's always planned on doing but it just had to be the right time."
In short, it doesn't seem like there's any shortage of new exploration to do with these characters in Mystic Falls.
"It's so interesting seeing the onion start to peel and different layers of what she's wanted for all these characters," Graham said. "It's been really intriguing to watch."
HAPPY ENDINGS: Another returning series we won't see until next month is ABC's hit comedy, Happy Endings, which is moving to Tuesday at 9 p.m. against Fox's New Girl. The cast is already busy filming and earlier this week I spent some time on the set.
One story the actors teased was the fact that we find out the gang appeared on a never-aired season of MTV's The Real World: Sacramento.
"One of my favorite things about Dave is how bad he is on camera and that with the reality stuff is great," said Zachary Knighton. "I get this amazing wig of long hair."
The reality series is also the place where Brad and Jane first met. We'll also get a Thanksgiving episode in Dave and Alex's new apartment (yep, they move in together). Happy Endings returns on October 23.
PARTNERS: Just because Partners - the new CBS sitcom starring Michael Urie and David Krumholtz that premieres Monday - has a cushy timeslot after long-running hit How I Met Your Mother, don't think creators Max Mutchnick and David Kohan are not feeling the pressure to succeed.
The duo, who are the inspiration for the show about the long-time friendship between a gay and straight man, often turn to each other when feeling the angst.
"I think the best thing to do in any of those situations," Kohan said, "is really to sort of cut out the chatter and talk to each other. That's always the way we try to operate, where once we try to hear the voices that are not just this dialogue, we get into trouble."
But do the guys feel any pressure after hitting sitcom gold with the eight season run of their earlier series, Will & Grace?
"I think we feel a lot more pressure from each other to do well than we would every think to include the public," explained Mutchnick. "We write for them but we have a built-in system of shame and pressure that has always existed and it's made us work very hard and I think I always try to do my best for David and I think he tries to do his best for me, and that's just been this thing that's existed and it's a blessing and a curse. But it is an engine that has kept us moving. For some reason, we want to please the other one and that's really where we're at."
That said, Mutchnick added there is not a ghost of Will & Grace lingering over them: "I don't think we do too much thinking about Will & Grace and it's ground breaking-ness."
Partners airs Mondays at 8:30pm on CBS.
That's a wrap! Time to close my Notebook for now. Anything else you're dying to know about your favorite show? Leave a comment here or you email me directly at jim@jimhalterman.com. And remember: get all your TV scoop by following @TVFanatic.
Jim Halterman is the West Coast Editor of TV Fanatic and the owner of JimHalterman.com. Follow him on Twitter.