The Ava Show may have been cancelled, but Up all Night was back and better than ever as Season 2 got under way.
"Friendships and Partnerships" threw the show's two leading ladies into flux and put their friendship to the test, while Chris and newcomer Scott (Luka Jones) formed a solid new bond. 
What can you say about a show that references, Chuck E. Cheese, Porky Pig and Downtown Julie Brown in the same episode, but... ah-mazing! There was no shortage of pop culture references or laughs in the season opener, but even more entertaining was seeing the new shape of the show take form so seamlessly. Aiding in the successful transition was Jones's character Scott, who fit in superbly.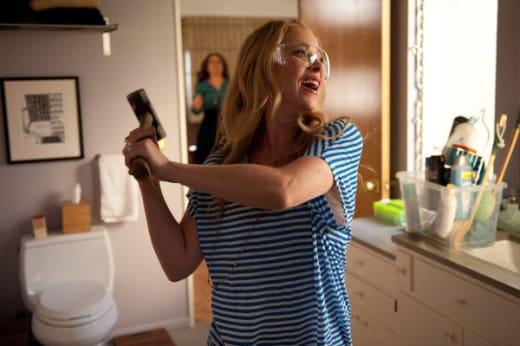 His interactions with his overly critical sister Reagan were totally relatable, as he proved time and again to be a solid offseason acquisition. Amidst such a talent stacked roster of comedic all-stares, Jones seemed to have a solid grip on his role, delivering some memorable scenes that surely set him off on the right path to endearing himself to fans of the show. 
Jumping back and forth from scenes at the Ava Show to the Brinkley household last year seemed to cause a rift in the sitcom's flow despite the cast's hustle. Ava was as enjoyable as ever, though, tonight and I think we will come to enjoy her high energy pop-ins the same way Seinfeld fans did Kramer's entrances. 
The ability of the writers to blend comedy into scenes without sacrificing the tenderness of family life continued to be on display this week. Scenes like the one where Reagan realized she wanted to stay home with Amy, upsetting Ava and their make up session later on at the studio, culminating with the golf cart "getaway," were fantastic. 
I didn't think it was possible for Amy to get any cuter after last season, but I think I rewound her doing the Woo-Hoos three times. Her mom, meanwhile, had me rolling as she tried to cope with her wine in one hand and the vacuum in the other. Will Arnett and his voice were hypnotically hilarious as always. 
My love of this series was renewed in full tonight and I can't wait for more in upcoming weeks. 
As always be sure to rate your favorite Up All Night quotes and let us know what you thought of the season premiere.