In my mind, it's official: the Alex and Neal shipping should be "Ancient History."
If White Collar knows anything about making it clear that two people should NOT be together, Alex's blatant manipulation of both the situation and Neal were all the proof I needed to declare that she be cut loose.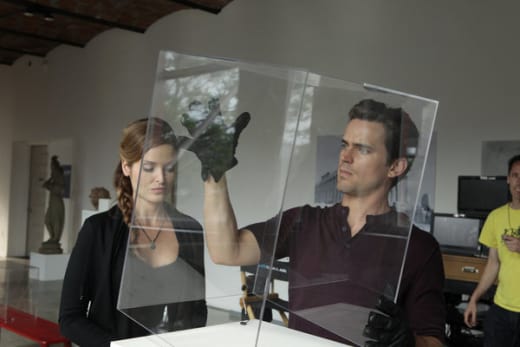 Like Neal isn't confused enough - between the loss of Ellen, the growing mystery surround Neal's father and the tension it has caused in his relationship with Peter - the last thing he needed was to be manipulated by someone he thought he could trust.
I have to say, though, that Alex clearly came to play ball with a game plan. To put Neal in the middle of it not once, but twice, was a pretty brazen move. While I appreciate that she thought she was entitled to some part of the U-boat treasure, the fact she was so fixated on having something to rightfully replace it felt kind of childish. I really don't think she should be so eager. Neal was right, it was more trouble than it was worth... on so many levels!
In the meantime, her manipulation is only making Neal more paranoid about who he can trust. I don't even think that he knows anymore who he trusts. Normally it would have been a given from the very beginning that Neal would have watched that tape Ellen left with Peter and Mozzie.
I think, in some respects, that Mozzie picked up on that, which is why he went to Peter on his own. That was a pretty bold move, but even Mozzie knew that a desperate time were going to call for desperate measures.
Luckily Neal came to his senses and decided to watch with Mozzie and Neal. It's terrible they moved in that direction when there was clearly no time for us as the audience to get anything from it. I am excited, however, that we are going to possibly start out next episode getting to see what's on the video!
Highlights from the episode:
Learning that Neal is an Aries.
Learning that his birthday is March 21st. I know I'll be throwing a party from now on!
Mozzie and Peter working together. Those will become classic White Collar moments!
Diana's blatant distrust for Alex and the sarcastic White Collar quotes that accompanied it.
Alex coming back, even if she did turn out to be the baddie in one way or another.
Neal ending up in the back of an NYPD squad car - TWICE.
The tension between Alex and Mozzie.
What do you think is on that video tape? Will it be Helen or possibly Neal's father?
C. Charles is a TV Fanatic Staff Writer. Follow her on Twitter.