Many shows seem to return to their former glory once an actual end is in sight. It gives the writers a new-found purpose, and that may be the case for 30 Rock here in season seven.
"Governor Dunston" continued the longer arcs of Jack trying to tank NBC and Liz's attempt at pregnancy nicely, while adding some hilarious moments with Tracy Morgan as the eponymous politician, along with a couple of guest appearances by Catherine O'Hara and Bryan Cranston.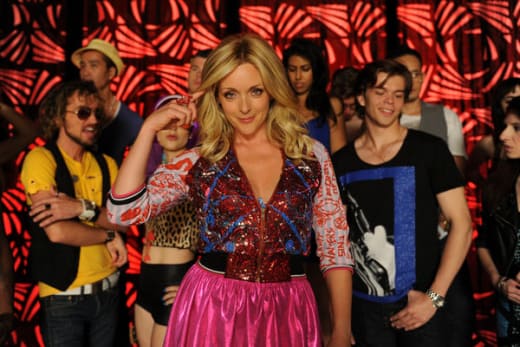 Morgan as the aloof Vice Presidential candidate, who looked exactly like Tracy Jordan, was funny enough in and of itself - with the "okey dokey doo" and ripping his pants off at the podium - but the fact that it was a direct call back to Tina Fey as Sarah Palin made it even better.
Like Dunston, Palin looked way too much like Fey for Saturday Night Live not use that to its advantage a few years ago. Unlike with Dunston, SNL did have to change Palin's quotes a tad to make them hilarious enough for television...but I say only a tad.
Fresh off his surprising Emmys loss, Cranston made a fine appearance, even if it was with hair on his head and no goatee on his face. That bit about some of his song actually being about him being a loser had me laughing for a good while.
There were plenty of other highlights from "Governor Dunston." Check out some of our favorites below, head over to our 30 Rock quotes section, and then sound off in the comments.
It's under Black Hitler.
Liz: I should get back downstairs. The show's not gonna phone itself in.
Jimmy Fallon's real voice.
Jack: That's the sound of Honey Boo Boos piling up on your Tivo.
Liz wants to be Glenn and Sally form Mad Men during sex.
Ron: Look Ken, I'm just trying to replace your dad.
A lobbyist is someone who hangs out in hotel lobbies.
Ken's mom: Do you remember that kid in school who bullied you?  Well I ate that goat.
Dan Forcella is a TV Fanatic Staff Writer. Follow him on Twitter.