I really wanted to like 666 Park Avenue.
I wanted to move in, kick my feet up and take up a very long residence inside an address that features such personal favorites as Terry O'Quinn, Vanessa Williams and Rachael Taylor.
But the pilot didn't exactly inspire me to buy an apartment there. I'll rent for a couple more weeks, but the series needs to seriously up the scary ante if it wants my down payment.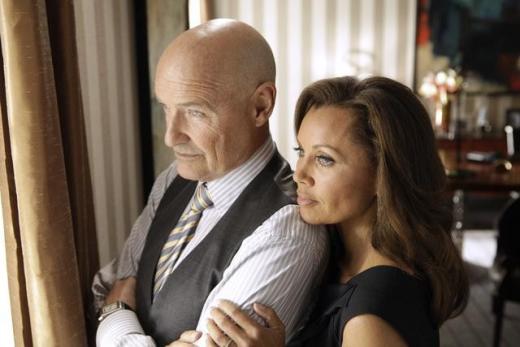 Let's start with O'Quinn's Gavin Doran. We can only assume at this point that he's The Devil, which isn't exactly a fresh concept on TV or on the big screen. Blame Reaper or blame The Devil's Advocate or, heck, blame Death on The Simpsons.
But the premise simply doesn't feel very original. Nor does it give O'Quinn a lot of material to mine. Any fan of Lost is quite familiar with the nuances and the depth of this incredible actor.
Yet Gavin was one-note throughout the premiere. O'Quinn did tell me at Comic-Con that he has no interest in simply smirking and cackling his way through a role, that he'd never sign on for a one-dimensional project. So let's hope upcoming installments provide Gavin with a lot more layers.
The same can be said for all the characters. Did any really jump off the screen? Do any stand out as someone you're anxious to learn more about?
Dave Annable's Henry Martin seems like your basic nice guy, Taylor's Jane Van Veen possesses some potential due to her art history background, Williams' Olivia is elegant and enigmatic, but not especially fascinating.
And it's early, of course. It's very early. There's plenty of time to delve into these people's backgrounds and personalities. But if a premiere isn't going to draw you in with its characters, it better do so with its action and suspense.
However, 666 Park Avenue didn't grab me in this regard, either. The building is old and creepy and there's probably some ancient, supernatural reason why. I'm not going to pretend as if I have any theories right now. But through Lost and FlashForward and The Event, we've been down this heavy mythology road many times before. It's very difficult to pull off when it comes to both logic and interest.
It should be interesting to see whether a network drama can succeed in a world of American Horror Story (in terms of creepiness) and even shows such as Sons of Anarchy (in terms of brutality and shock). ABC can't get away with the same blood and gore and imagery as FX, so will this series simply feel like a watered down attempt of what cable has been pulling off so well over the past few years?
That was my main takeaway from the opening episode.
666 Park Avenue isn't trying to win any Emmy Awards (which is too bad when you employ someone such as O'Quinn); it's simply trying to be a campy hour of fun every Sunday night. But if that's the case, it needs to go all in. Go totally over the edge, American Horror Story style. Freak me the heck out! Be cheesy and ridiculous and over-the-top and don't even try to ground your characters in reality.
Is that the path this drama is headed down? Let's hope so.
What did everyone else think of the premiere? Give it a grade:
Matt Richenthal is the Editor in Chief of TV Fanatic. Follow him on Twitter and on Google+.