Surgeries were not the only complicated thing on "I Saw Her Standing There." This episode focused on several situations that were perfectly messy in only the way Grey's Anatomy can do. Time to discuss...
Can't Hardly Wait. Arizona took her first steps towards recovery in getting fitted for a prosthetic. This is huge for an amputee. Like we discussed in "Love The One You're With," mean Arizona is no fun. The way she is acting is very understandable, but you can't help but feel bad for Callie. The woman lost her best friend/father of her baby and her wife's leg from the same accident. Having Alex talk to Arizona definitely made a difference. These two work well together; Robbins has made him softer and it's a huge improvement. 
The best part about Arizona moving forward was meeting her doctor. It took me a second to place him, but sure enough... Ethan Embry could not have made me smile more. I know I'm not the only Can't Hardly Wait fan, right?? Looks like we may be graced with him presence a few more times.
Man To Man. Welcome back, Catherine Avery! Debbie Allen returned to reprise her role as Jackson's mother. Not only did she have the most tension, joke-filled case of the week, but she caused quite a stir between two of our favorite men. Gorgeous Eyes Jackson decided to have a talk with the former chief about sleeping with his mother. This might have been the most hilarious scene of the hour.
Check out the Grey's Anatomy quotes page for the showdown between the two.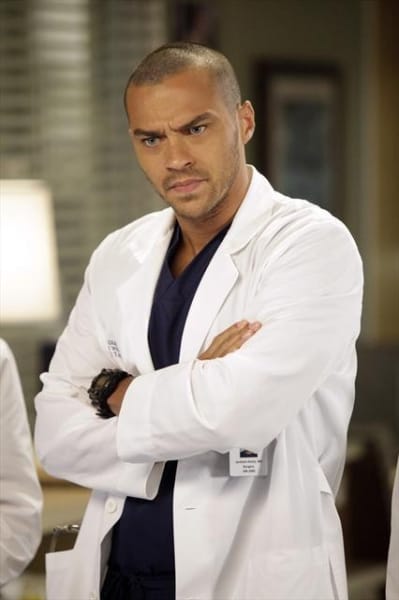 Old Fashion. Let it be said, Dr. Thomas may be ancient, but he is the man. If we have to settle for having Yang at The Clinic, at least we get to watch her interact with Thomas. These two have great chemistry and are perfectly suited to teach each other. This was the first time we saw Yang smile in quite some time.
Not a fan of Dr. Parker and his plans to push out Feeny Thomas. Here is hoping that Cristina can teach and learn from the doc and he can keep his job. At least until she is ready to return to Seattle. This pairing is seriously so much fun to watch and most definitely one of the highlights from this somewhat slow episode.
Yang - what are you thinking? We know you like men in authoritative positions, but really? Dr. Parker?!? You can do so much better! Turning him down to have drinks with Thomas was the smartest decision she has made since getting to Mayo.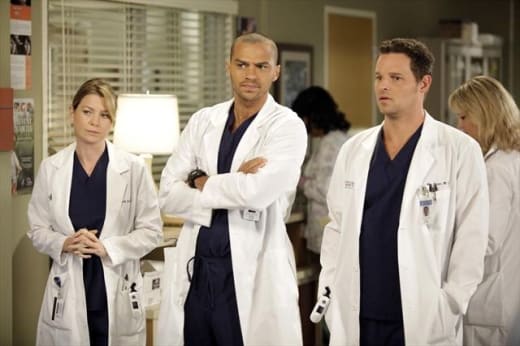 Elsewhere...
Owen is staying at Derek's trailer. Things are not looking too bright for him.
Nice appearance of Joe's Bar. Wouldn't mind having a few more scenes there like we used to.
Jackson and April are still sleeping together. How long until his mom finds out?
Looks like things might be getting better for Callie. She got to watch American Bake-off with her wife.
Can Alex get a real arc sometime soon?
How cute are Meredith and Derek? After all these seasons, they can still put a smile on your face.
Did anyone else notice Jackson's haircut? That boy is hot!!
Overall, a solid episode. A little slow moving, but it brought back Catherine, got Bailey to make some jokes and featured a solid amount of screen time for Yang and Thomas. 
What did you think, TV Fanatics? Was "I Saw Her Standing There" up to Grey's Anatomy standards? Sound off in the comments and let us know. And check back later this week for the always fun and entertaining Grey's Anatomy Round Table. 
Unfortunately, no new episode next week. Let's use the time to chat it up about the hour and to figure out where this season is going. Is GA losing its steam?
Until next time, Grey's fans.