After only two episodes of its second season, it is crystal clear that Homeland is going to keep coming at viewers with non-stop pulse-pounding and surprising television.
Between the meet-gone-bad with Abu Nazir, Carrie running for her life through the streets, the Marines questioning what happened with Tom Walker and that final video clip Saul started watching, "Beirut is Back" was a perfect example of this show at its Emmy-winning best.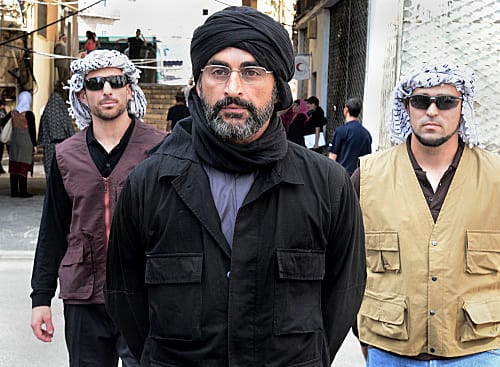 Let us begin with the fact Carrie was indeed right about her intel. Her instincts were correct, which means she's even closer to her old self. That certainly isn't to say that she's back at the top of her game. As she noted, being wrong about Brody f*cked her up.
Listening to her talk about that, and then watching her go up on the roof during a major freak out, was disconcerting. In just one short season, it has been incredibly easy to let Carrie Mathison into our lives. Witnessing her struggle so much shouldn't be easy on us.
The worst part is the dramatic irony in knowing that she wasn't wrong. No matter how many times he says that he isn't and even if he believes it, Brody IS a terrorist. If you text the leader of a terrorist organization to save his life from American agents, by the transitive property, you are a terrorist.
How about that scene?!?! A Congressman in line to be the next Vice President of the United States was in a room with the current V.P. and the joint chiefs, and he texted a warning to the man they were waiting to see murdered by American soldiers. I was absolutely hysterical during that moment.
And that's what Homeland does so well. It has been so great at creating this world as our reality that it is so easy to get sucked in. That's exactly why that moment was so difficult and yet so joyous to watch. It's exhilarating television.
But just when you thought the action would have to take a break, Homeland didn't. That tense moment led right into Saul and the gang getting pushed around in the car and Carrie running for her life through the streets of Beirut. It was pretty infuriating that the dude just let her run back into the house. I know he basically saved her later, but how do you not just shove her back into the car and drive away?
Thankfully Carrie did go back into that house though, because - slap me sideways - it created one shocking final moment of "Beirut is Back." Homeland's not pulling punches, and it's not slowing down. Saul watched that video of Brody. Yup, that happened.
Screw this slow build business. Homeland comes out of the gates hard and fast. Saul watching that video may create a situation I never thought would arise this early in Season 2. People might know, and what are they going to do about it?
On top of all that, Brody's buddies are now coming to him almost like an angry mob in search of answers. Why on earth did Tom Walker miss his shots? And how did he die? I get the questioning of how the marksman missed so many shots, but I don't get why they think Brody could find answers on a conspiracy.
Even if Brody had the correct clearance, and the shot on that day was a distraction (which it was), why would the U.S. Government have known about the secret plan of terrorism? Whatever the case may be, it was awesome watching Brody throw Tom Walker under the bus for no longer being a marine. He was also talking about himself...and it was haunting.
"Beirut is Back" was also filled with Jessica getting in deep with the V.P.'s wife, and Dana getting in deep with the V.P.'s son. Both of those relationships should prove to make things interesting down the line. For now just let us know what you loved most about this week's episode in the comments.
Dan Forcella is a TV Fanatic Staff Writer. Follow him on Twitter.