Charlie Harper may be gone, but Rose lives on.
Entertainment Weekly confirms that Melanie Lynskey will reprise her stalker-ish role on the October 25 episode of Two and a Half Men, setting her obsessive sights this time on Ashton Kutcher's Walden Schmidt.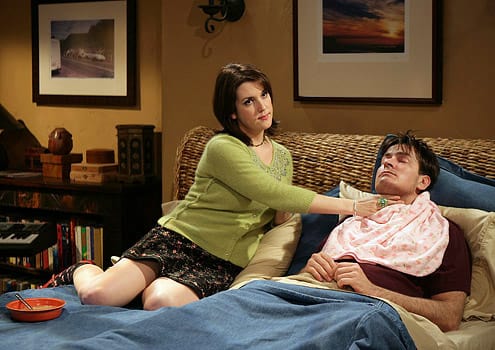 Said Lynskey, who has appeared off and on since Season 1:
"I don't want her to grow up! I've spent most of my career doing independent movies and playing roles that are sort of naturalistic, real women who are struggling. What's so fun about this job is that I do it a couple of times a year and I get to be this person who exists in a different reality. Just the way she looks at the world is so bizarre. I don't ever want her to change."
CBS airs a new installment of the hit sitcom tonight - and you can visit our Two and a Half Men quotes section in the morning for the latest one-liners.
Matt Richenthal is the Editor in Chief of TV Fanatic. Follow him on Twitter and on Google+.