Our NCIS review broke down "Lost at Sea," Tuesday night's episode of TV's #1 show, in detail.
Now, TV Fanatic staff members Steve Marsi, Matt Richenthal and Eric Hochberger have assembled for our weekly Round Table Q&A discussion of various events from this week's solid installment.
Join in as we analyze Diane Neal's return, Tony and Tim's rapport and much more!
----------------------------------
1. Describe this episode in one word (or two, or three, or four).

Steve: Amusing and intriguing.
Matt: My favorite this fall.
Eric: I heart McTony.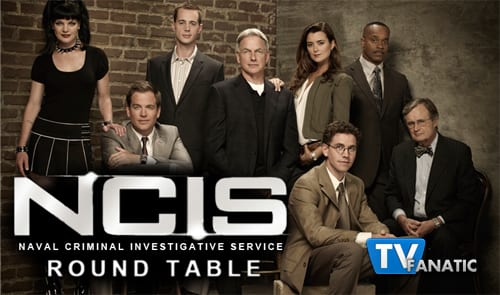 2. Best quotes or scenes from "Lost at Sea"?
Steve: Had to be Tony and Tim asking out Borin. It was made funnier by the fact that she was in on it, but Tim's cringe-worthy delivery in particular (with Tony actually cringing) was hilariously awkward.
Matt: It was early and could be quickly forgotten given everything that transpired after, but I loved Ducky running a spy game at Walter Reed. Who knew David McCallum had such a penchant for espionage ...
Eric: Gotta go with Ziva-isms, both her confusing Horse Whisperer reference and then the classic, "You never went to the bar, you stayed home playing with yourselves ... I mean, with each other." I died.
3. Biggest gripe with the episode, if any?

Steve: None from me. We're all going to have episodes we like more than others, and point out things about each that we might have done differently, but nothing jumps out this week. I enjoyed every minute.
Matt: Maybe just that the scrap metal dealer as the killer felt like a little bit of a stretch? Not a big issue though, the casework was still engaging overall on top of the banter that really made the episode.
Eric: No Jimmy Palmer and not a lot of Abby? They've both had a lot of great scenes this year and everyone can't be in every episode equally so I'll overlook it. Just grasping at straws/minor caveats.
4. Should Diane Neal appear more often?

Steve: I love the character and her relationship with the team - both Gibbs and his subordinates. She clearly meshes well on both a professional and personal level, so yes, I'd like to see her back, and soon.
Matt: Great character but sometimes less is more. Too many guest stars/appearances can lessen their appeal - even if she's one of the better ones - and dilute the regular team members' screen time.
Eric: Definitely. She's terrific, with or without the new hairstyle. Loved watching the guys try to ask her out. I just want to know if she would've said yes to either if she hadn't been in on the joke!
5. Should Tony and Tim partner together more often?

Steve: Absolutely. This was one of my favorite aspects of the week ... not just seeing Tim get quality good screen time but how he holds his own, dishing it out as well as taking it from DiNozzo.
Matt: Michael Weatherly and Sean Murray have a great rapport, more complex than you might realize on the surface. At the end of the day I think Tony likes Tim a lot despite the endless ribbing.
Eric: MW and Cote de Pablo have a great thing going too. NCIS has one of the better problems a show can have, too MANY good characters who play off each other so well. We're always going to be lacking for some combinations, but there are rarely clunker scenes and even more rarely clunker episodes. Each is different in their own way and we'll be treated to a great season I think.
6. NCIS team MVP of the week?
Steve: Ducky, for his clandestine maneuvering, and Gibbs, because the man is all heart.
Matt: Ziva and Borin, for putting one over on the guys. Nicely played, ladies.
Eric: McTony FTW, even if they were totally lying about their prowess as wingmen.
7. Any other closing thoughts?

Steve: Great ending showcasing Gibbs' soft side. That's why he's the fearless leader.

Matt: Impressed how good the writing still is on NCIS after nine-plus years.
Eric: I want to know what video games Tony and Tim are most fond of.
What's your take on these issues of the week on NCIS? Discuss below!
Steve Marsi is the Managing Editor of TV Fanatic. Follow him on Google+ or email him here.