The Vampire Diaries "Killer" Photos: Hostage Hostility
Matt Richenthal at .
Ready for some killer images, Vampire Diaries fans?
Or, we should say: some images from "The Killer?"
On November 8, this CW favorite will bring Stefan and Klaus together in an uneasy, unexpected alliance in order to contain the danger Connor has unleashed on Mystic Falls. As teased in the official network description, look for this hunter to take hostages in the Grill and for the Salvatores to disagree over how best to deal with the situation.
That's what we see in one of the following photos, as Damon and Stefan argue, Caroline looks on in anger and Bonnie bonds with a local professor: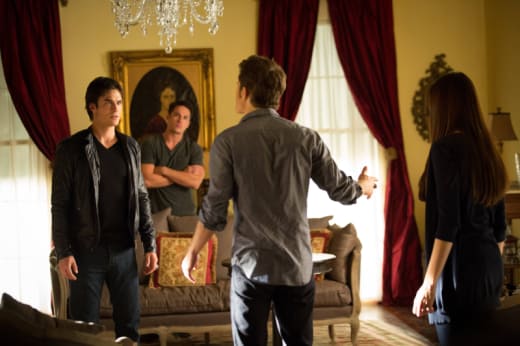 NOTE: The CW has also published new photos from November 1's "The Five," including a flashback to Elijah and Damon/Elena at a fraternity costume party.
Matt Richenthal is the Editor in Chief of TV Fanatic. Follow him on Twitter and on Google+.