For weeks now, The X Factor has been improving on not only its own mistakes from last season, but also the bad habits that American Idol has developed over the years. That didn't change this week, as the first night of Boot Camp was short and sweet - and nobody got hurt.
Well... the 60 or so contestants who were eliminated were certainly hurt, but because The X Factor decided to just show us some of the highlights, some of the train wrecks, and then get to the first round of cuts, the viewers at home were left unscathed by the boring middle rounds that these singing shows have forced on us year after year.
Boot Camp started with around 120 contestants. We are already down to half that amount, and it will end with just 24 hopeful acts. Let's take a look at who impressed us, and who had us looking away with The Good, The Bad, and The Judges...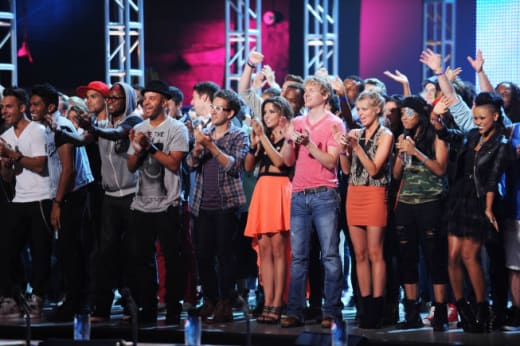 The Good
Diamond White: She is just a complete professional. She was so girly and friendly while talking, but as soon as that music started it was go time! She put a nice little spin on "I Have Nothing," which is a song that everyone says you shouldn't sing.
Jennel Garcia: She certainly let's her hair down for real! Jennel seemed super nervous to start, but Demi's right, she had some serious sex appeal.  Not only that, but she can also sing! What a combination. L.A. said it was "very spicy," whatever that means.
Emblem3: The best part about their performance in this episode may have been them making fun of the other boy bands' (L3vel, Citizen, Jetset) attempts. Sure, their own audition at Boot Camp was good, but watching them as dudes might be even better than watching them as singers.
Willie Jones: He had a much better idea with this song choice. You don't try to match a Chris Young or a Josh Turner with a low voice if you don't quite have it.  Using your deep smooth sound on a Kenny Chesney track was a much better decision. I'm still with Britney, though, in that I'm not feeling him as much as the other judges. Love the vibe, not sold on the strength of the voice.
Paige Thomas and Cece Frey: I'm not sure if they planned to have them singing the same song back to back, or if it was simply the editing that made it look like they sang one after another, but it made for interesting television. I like both of their performances, preferred Paige as a human being, and Cece as a singer.
A number of other performers seemed to do well in the snippet we saw of them: David Correy, Dinah Jane Hansen, Lyric Da Queen, Jason Brock, Carly Rose Sonenclar, Tara Simon and Vino Alan were among them. 
The Bad
Austin Corini: Simon thought people would like him, but L.A. didn't think he nailed the song. I'm actually with L.A. on this one. It just didn't impress me all that much. His tone seemed nice, but nothing was special about it, or him.
Jessica Espinoza: Demi remembered her first AND last name, and that doesn't happen for just anyone. Britney didn't seem to like it, though, and neither did the rest of contestants.
Johnny Maxwell: If you're a rapper, how do you forget the words to that iconic song? Moreover, if you think you're good, why are you picking any Puffy song when everyone knows he isn't very good?  If you're plan is to pick a song that is easy to rap so that you can make it further in the competition, I can dig it, but I don't think anyone at this stage doesn't think they are the best at everything.
Jordyn Foley and Trevor Moran: These two were among many others in the montage of terrible performances. Can I get a big "I told you so?" Like I said just last week, these two were not good. I love how the judges kept asking what was wrong. Ummm, you sent gimmicks through to Boot Camp and expected great singers to show up.
The Judges
Seriously guys and gals, it couldn't have been nerves on all of those awful performances you showed. L.A. must have said that "nerves got the best of him" at least three million times during this episode.  Are these people really all that much more nervous in this round than the first round? Isn't it just much more like that you let through bad singers so that you would have easy cuts in this next nationally televised round where viewers want to see mean eliminations?
-----------------
It seems as if Thursday night might be one more episode of Boot Camp, before the contestants head off to the judges houses. That is a pace I can get behind.  Hasn't Idol done like weeks and weeks of Hollywood in the past? Or does it just seem that way with how boring and repetitive it gets?
Either way, I am still enjoying this season of The X Factor much more than a year ago.  I am actually looking forward to the next round. What about you all? Are you liking the season? Did anyone surprise you form tonight's Boot Camp? Which was your favorite performance?
Dan Forcella is a TV Fanatic Staff Writer. Follow him on Twitter.