I can't believe The X Factor played this whole thing off like last week's episode wasn't a complete disaster, and that it didn't already show two of Demi's results. However, I will take any chance to re-watch Demi's earnest excitement at telling Jennel and Willie that they had made it through.
Let's recap which other acts from Demi and Simon's groups advanced to the live shows...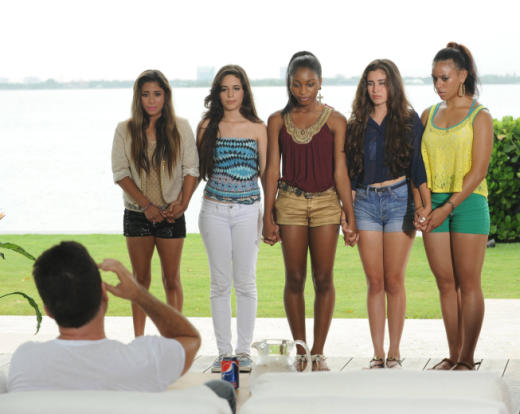 Young Adults
Jennel Garcia - Made It
Willie Jones - Made It
Nick Youngerman - He Gone
Paige Thomas - Made It
Wow, if there is such a thing as a beautiful crier, Paige is it. You could feel every bit of emotion that she feels for her daughter in each one of those tears that fell from her eyes during that result.
Jillian Jensen - She Gone
Cece Frey - Made It
I realize that this was probably one of the worst moments of Jillian's life, but if she could have mustered up the courage to come up with a "Demi, you just broke MY heart," it would have been the line of the century.
As great as these four are that are going through, it's still really difficult to see Jillian go home.
Groups
Lyric 145 - Made It
Dope Crisis - They Gone
Emblem3 - Made It
I've really enjoyed Emblem3 up to this point, but their constant retort to Simon was pretty tough to watch. I just wanted to scream at them to shut up and wait for the news.
Sister C - Made It
Playback - They Gone
Lylas - Made It
------------
So that's it people. We have made it to the live shows, and there are 16 acts performing for our vote! Which group is in the best shape? And who are you rooting for to win the whole thing?
Dan Forcella is a TV Fanatic Staff Writer. Follow him on Twitter.