We got so close to Vincent and Cat taking a step forward in their relationship on Beauty and the Beast this week.
They were going to go on a camping trip... until Vincent again awoke covered in blood. By the end of "Out of Control," it appeared there was very little hope for the romantic side of our duo, as J.T. determined Cat had been triggering Vincent's episodes. Let's find out how in the heck we ended up there!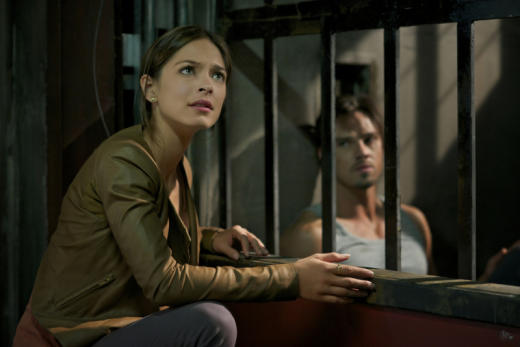 As usual, it all started with a case, one in which Vincent may or may not have been involved. That part could have become old after a while, but now that he's jumped to the top of the Most Wanted list in the city, there's going to be a very good reason for everyone thinking he's involved. Admittedly, he does usually have his hand in the pudding, doesn't he?
I hate to say it, but Tess and Evan are my two favorite characters. They have the best Beauty and the Beast quotes and even in the worst of times aren't afraid to use them. I think I would watch a show about just these two and J.T.
I no longer want Evan and Cat together in any way romantically, but what happened with Evan and his near-death experience, followed by the mauling vigilante rescue, forever ties them together. Maybe not in our eyes, or Cat's, but certainly in Evan's. He even brought up the similarities of what she had claimed to witness during the death of her mother and what he heard happening to his assailant.
I found it interesting that Even never thought to ask Cat what she saw as she came upon him. He definitely heard the ripping of flesh, and Cat appeared only moments later. He was already intrigued with being on the other side of a crime, witnessing the lack of remorse in a killer's eyes as he set about his task. He can't ask his past assistant any questions about occurred, but if his immediate computer search upon his return to work is any indication, he's not going to let what he heard go any time soon.
Really, who could blame him? If I heard something that sounded half man and half monster, who happened to save my life, and that also happened to line up with an experience a coworker had a dozen years ago, I wouldn't stop looking for answers. I'd become obsessed. It will be interesting to see how this changes Evan, and the dynamic between he and Cat. I hope he maintains his sense of humor through it all because it makes him so unique.
Because J.T. determined the section of Vincent's brain to be affected when he was undergoing an episode was the frontal lobe, the part controlling emotions and compassion, and Cat is the trigger, then why does it only happen when he's on his way to her or she to him? Why doesn't it happen when they're actually together? That part was lost on me, but I expect we'll find out more as the series progresses.
It wasn't fun seeing Vincent turn and toss J.T. across the room. Can you imagine what would happen to Cat if she was on the receiving end of that? By the way, people need to stop mistreating vintage chrome kitchen sets on television and in movies. Believe it or not, those are NOT easy to come by. They are rare and expensive. To see Vincent toss that table across the room made me furious. He does not want to get on my bad side when it comes to vintage furniture!
Did you notice that Vincent told J.T. he couldn't leave their building until he knew what was going on, but a couple minutes later he was skulking around the college bell tower hunting down Cat? That's my guess for how long Vincent will remain in his cage. His self restraint seems to have gone out the window. Even when he knows he's a danger to society and Cat, he still doesn't think to use the phone. As soon as he wants to chat with her, he'll open the cage and stride over to a darkened room to lie in wait for her arrival.
While seeing Vincent in the cage was sad, it was worse to hear J.T. tell Cat that by not using the tranquilizer gun on him and using him to to rescue Even, it was Vincent that paid the price. It made me wonder if Cat truly understands what she is dealing with by befriending, and loving, Vincent.
Is she more concerned with what he can do for her and the lives he can save with his abnormality, or does she want what's best for Vincent? Unfortunately, I think the two will have to be mutually exclusive. Is what draws Cat to Vincent the bad boy hiding inside, or the regular man he will, hopefully, one day be again?
Carissa Pavlica is the managing editor and a staff writer for TV Fanatic. Follow her on Twitter.