After leaving us for two months, our favorite unburned spy returned in "Desperate Measures" with an answer to the question: How the Hell was Michael going to get out of Panama alive?!?
Going into the summer finale, many of us believed Gray was going to be the new bad guy now that Anson was dead, but we all found out in the last few minutes just how wrong we actually were:
Tom Card was the man behind Nate's death.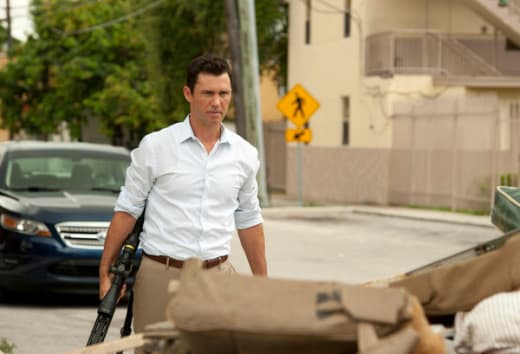 As always, Matt Nix and his team did a stellar job of giving us answers to the questions we've had for months, yet still leave us with many more. Let's break some of them down...
Did Tyler Grey kill Nate? The short answer is yes. But that comes with a bit of a footnote that Tyler was under orders from Card and had no idea that the person between him and Anson was someone he should try to avoid. Of course, this doesn't absolve Tyler of the responsibility; he was the person who pulled the trigger.
Did Tom Card really try to kill the team? Another big YES! The conversation between Card and Tyler in the last few minutes of the episode wipes away any doubts we might have about Card's true nature towards Michael and company.
Is Michael Going to kill his brothers killer? Now this is a tricky question. Like most people, I assumed Michael would try to kill Tyler the first chance he got - and he did. However, things are never black and white for Michael, as Sam stopped him. Also, finding out that Card was behind Anson's assassination order moves the blame a bit in Michael's mind.
In addition to answering these questions, we got one of the biggest twists in Burn Notice history when Michael actually teamed up with Tyler so they could take Card down together.
This whole time, like every other viewer, I've hated Tyler for jumping from the plane... trying to sell Michael and the team out to the drug king pin... and, oh yeah, for KILLING NATE. I was really looking forward to Michael exacting vengeance on him.
Then Tyler showed signs of intelligence when he realized that Card had played him and given him false info on Michael. This led to him saving Michael from the drug lord, which redeemed him a little bit, but it was the regret-filled comment to Michael about wishing he could take the shot back that killed Nate that nullified my desire for vengeance.
Michael knows a lot about regret. If anyone can understand what Tyler is going through, it's Michael himself.
The only wrinkle in this pairing is this: while Michael has shifted the blame for Nate's death to Card ordering the shot, Madeline is still blaming Michael and is not going to react well to learning that her son is now working with the very man who shot her other child.
So it's going to be an exciting ride for the winter portion of Burn Notice Season 6. I assume everyone is along for it?
Jim G. is a TV Fanatic Staff Writer. Follow him on Twitter.