Continuing with the interesting David Bowie theme, this week's episode of Covert Affairs was titled "Scary Monsters (and Super Creeps)." After what he put Annie through, I wonder which of those refers to Eyal Lavine.
The man DID doctor the photos that caused the drone strike, or at least he was in on it with Mossad. He used Annie's friendship to help his company get what it wanted: a bomb that might blow up Khalid. That is something that comes as second nature to Eyal, using people to reach a goal. He's a spy.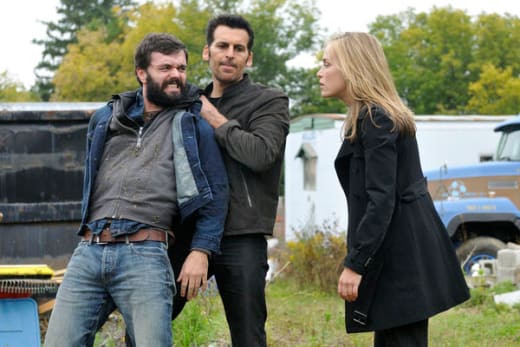 After insisting that the intel was solid when Annie asked him about it earlier in the episode, Eyal finally admitted to her that he doctored the images. He said he went rogue, which coincided with his boss's story, but the real heart of the moment was what he said to Annie about who she is.
Eyal told her that there is no trust among spies, and that the fact she looks for the good in people only makes her weak and an easy target.
He really didn't beat around bush there, did he? It's true, though, isn't it? This is a ruthless world to begin with, and Annie is living hers amongst some of the most heartless there are: spies.
Sometimes seeing the good in people has worked out, as with Simon Fisher. And although it was obvious that Eyal was torn up about what he did to his friend, Annie seeing the best in him definitely did leave her and the CIA vulnerable.
It's not really that she just believes everything she's told, or that she jumps right in with two feet whenever someone flashes a smile at her. With Eyal, Annie allowed a long-lasting professional and friendly relationship to get in the way of the fact that at the end of the day, altogether now, "there is no trust among spies."
Will Eyal turn back against Mossad and attempt to help Annie through her current problem? Maybe, but that won't change the fact that the good in her heart created a major problem for her and her company.
That issue hasn't gone away either. The hour ended with Meghan finally reaching Khalid and the big bad terrorist asked her who the woman was that approached her. "Annie Walker" was uttered -  and now we're all in big, big trouble.
As all of this was going on, Joan decided that it was time to take some time off. She admitted to Arthur that she wasn't a good role model for her department because she didn't take time for any other part of her life. This was a healthy step for Joan and Arthur, as it seemed like she was being honest and open with her husband for the first time in a while.
Auggie, unfortunately, took a back seat this week. I would love to see him back in the forefront in the final two episodes of the season. Wouldn't you?
What did you all think of "Scary Monsters (and Super Creeps)?" What were your favorite moments? Is Annie too trustworthy? Or is seeing the good in people her best quality? Oh, and what are your predictions for what might happen in the final two episodes of the season?
Dan Forcella is a TV Fanatic Staff Writer. Follow him on Twitter.