I'm going to go ahead and say this, even though I know half of the TV Fanatics who read it will probably disagree with me:
I haven't enjoyed an episode of Glee like I enjoyed tonight's episode in a long, long time.
Maybe my elation is turkey and stuffing induced. Maybe my happiness is from the sweet potatoes. Somehow, however, I doubt it. "Dynamic Duets" solidifies, for me at least, what I saw two weeks ago, and that is that the focus of this show needs to be on McKinley.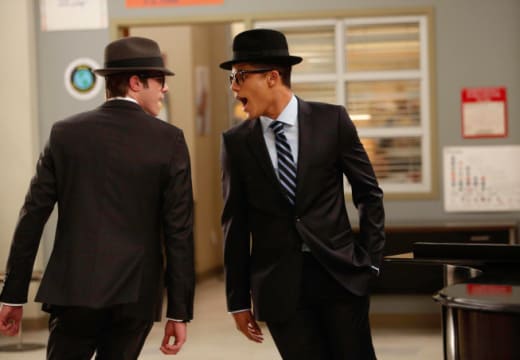 I won't lie. I spent the first three minutes tonight wearing my "WTF" face. The real-life Superhero Squad, complete with Coach Beiste as faculty adviser, was more than a little bizarre. It was downright delusional and unnecessary. And yet... as the episode progressed, I found myself overlooking the fact that the characters were actually, really wearing capes and tights and focusing on the boatloads of information in an episode that was essentially buried under a mound of tryptophan.
Information such as:
Jake and Puck have developed a friendship where Baby Puckerman calls OG Puckerman for advice about girls.
Marley is developing bulimia after taking Kitty's "advice."
Will Schue left Finn a nice collection of sweater vests when he went to Washington.
Ryder is dyslexic.
Blaine's side of the break-up.
Finn is having some issues as the leader of the New Directions. They don't see him as an adult, but really, he's a baby adult, so I understand their confusion. His "Foreigner" plan was bad. So bad High School Finn from seven months ago would've called it bad. But as a mentor, he maybe doesn't suck.
He was really great with Ryder and Jake tonight. His plan to make them sing together was straight out of Schuester's Handbook, and when it backfired, he dropped back and punted just like Will would have. He forced them to be vulnerable so they could work together. I was kind of proud of him in that moment. Our little Finn's all grown up, guys.
Blake Jenner as Ryder is blowing the winners of The Glee Project Season 1 out of the water three episodes into his seven-episode arc. Neither Sam Larsen as Joe nor Damian McGinty as Rory are half as good as he is at being a believable character. Maybe it's that Ryan Murphy and Co. sought out a "leading man" in season 2 of The Glee Project, but really, they couldn't have chosen a better winner.
And Jake? I kind of love him.
While he may have betrayed Ryder's confidence in going to Finn, he did it with good intentions. Great intentions, even. He didn't like Ryder and really had no reason to even after hearing his secret, but he helped anyway. It's reminiscent of the time Puck made Becky Jackson a crown for prom. Both of them have these hard exteriors, but on the inside, they're good guys.
Speaking of Puck, it was great to catch a glimpse of him and find that he's just as industrious as always, hustling people on Hollywood Boulevard for money.
I couldn't be sure of Kitty's motivation for being nice to Marley until the point of the episode when Marley asked Jake out on a date. And to be honest, I'm still not entirely sure why Kitty is hellbent on having Marley become bulimic aside from just being an evil person intent on destroying Marley's life. But I suppose that's reason enough. I hope Glee treats this storyline with delicate attention because the relevance of eating disorders among teens shouldn't be treated as a lesson-of-the-week and then forgotten.
Finally, we got an explanation about Blaine's cheating. Yes, it happened. Yes, he's sorry for it. So sorry he seriously contemplated a move back to Dalton Academy to get away from Kurt's memory. Sam, however, convinced him to stay at McKinley. I believe there will be a conversation between Blaine and Kurt at some point and right now, after hearing Blaine's explanation, I can't decide how I want things to end up. (You can read Blaine's explanation on the Glee quotes page!)
Sure, I love Blaine and Kurt together. But Blaine's cheating, and with a stranger no less, was reckless and lame. If Kurt never listened to him, he'd be justified in that decision. The part of me who wants to see these two work it out, who believes in forgiveness and second chances, is hopeful they'll reconcile at least to the point of being friends again, however tenuous.
And that, my friends, is what you missed on Glee. Plus other things that I didn't include here lest this become a rehashing of ever minute of tonight's episode.
Seriously. There was so much to learn tonight! And all of it was done without the intrusion of New York. And yes, New York feels like an intrusion after tonight.
This? The high school? This is Glee now. And this Glee? It's good.
What did you think of "Dynamic Duets?" Have you visited our updated Glee music section yet? Are you starting to like Ryder and Jake as much as I am?
Miranda Wicker is a Staff Writer for TV Fanatic. Follow her on Twitter.