While Grey's Anatomy was all about Cristina and Meredith last week, "Second Opinion" went back to involving pretty much every cast member.
For some of the characters, this worked. For a few others? Much was left to be desired.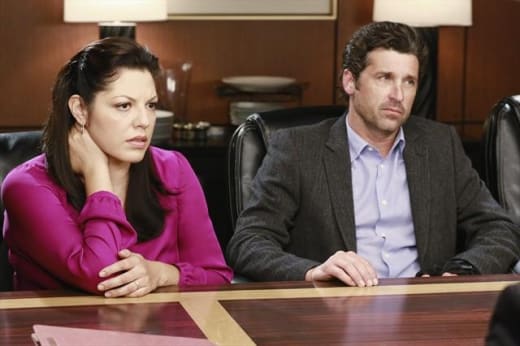 Yay for Cristina being back (although I still wish Dr. Thomas got to join her at Seattle Grace)... but I was prepared for her to be more mean towards the interns. And although her intern nicknames were hilarious, I rather liked seeing her be the teacher in her own blunt way. She always nails her comedic lines as well as the emotional ones, so really it was great to have her a part of the team again.
At the same time, I loved that Bailey worked her magic on Arizona and sort of tricked her into coming to work. It was a genius idea that could have easily backfired. Arizona belongs at work.
But can Derek ever work again? The emotional moments of Callie admitting that Derek wouldn't be able to operate was heartbreaking. She didn't want to admit it, with their follow-up conversation only adding to the stress. These two are friends and seeing them angry and upset was a great moment.
So it was a positive shift when she recanted and began to offer up numerous ways Derek could recover. I hope he does get to.
As for Owen, I completely understand his outburst on Cristina's work. He just wants to protect her and it was fantastic when she realized that he was the one pushing for her to come back. Is there a chance for thaeir relationship here again? Any at all?
I'm not sure if Cristina is ready for something like that. She did decide to move in with Alex after all.
And I enjoyed getting that old school vibe of when they used to all hang out together. Even Meredith naming off all the problems that Alex had with the place was a fun touch.
It's definitely enjoyable seeing those lighthearted scenes take place, as great as it is to see Jackson squirm with awkwardness around Webber.
I couldn't help but laugh at Jackson getting the dirty email from Webber followed by his mom. And to top it off, Webber telling Jackson he really wanted them to be together was perfect. What an uncomfortable situation.
But of course, with the good, comes the bad.
I'm not digging April's Jesus rants. I get her feelings and frustrations and confusion, but it just feels tiresome. And sure, maybe Jackson digs a little crazy, but I'd like to see them develop beyond the whole "let's have sex, awesome, you're bumming Jesus out" routine.
And as much as the episode was all about sparking change and the recognition of moving forward, I could have done without the intern Jo and her puke-infested patient. It just felt forced in trying to prove that she could prove herself.
In reality, there just felt like a lot was going on, which is usual for the show, but I think I would have been okay with only focusing on a few of the characters in addition to the plane crash damage assessment.
The final result was a shock. They're going to sue the hospital and essentially Owen? That's going to cause a lot of personal drama in that work environment.
Overall, this was a fair episode and something of a transitioning one, but easily forgettable in a pretty good season.
Now I wonder what other dwarf names the interns will get...
What did you all think of the episode? Are you glad Cristina is back? Are you surprised the lawyers want to go after the hospital?
Sean McKenna was a TV Fanatic Staff Writer. He retired in May of 2017. Follow him on Twitter.