This week's Jim's Notebook gets emptied out with a different kind of Walking Dead death, the key to a good villain on Burn Notice, deconstructing vampire hunters on TVD - and my own thoughts on shows on the cancellation block and what YOU can do to save them...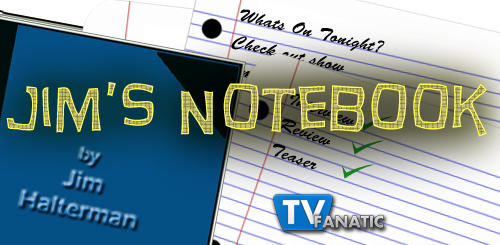 THE WALKING DEAD After last Sunday's gut-wrenching episode, Sarah Wayne Callies said that her character's demise was different than the usual death we see on the series: "Lori's death is very unique I think among the one's we've had on The Walking Dead because it's one that she's chosen. I think the other one that comes close is Jim deciding to leave us by the side of road in Episode 105, although she's already been bitten at that point."
Added the actress: "It's an interesting tone because it's not surrounded by quite the same level of crisis and panic, although it's clearly a situation where things are going to go badly with or without her choice. You know, I think in a way it's a pain for us to admit that."
And even though Lori's death included Carl (who pulled the trigger on his mother), Callies explained how she and Chandler Riggs prepared their final scene: "Chandler and I really didn't talk at all the week that we were shooting because we can't look at each other without losing it. I love that kid."
BURN NOTICE The second half of Burn Notice Season 6 kicked off last last night and, just prior to the Season 7 renewal announcement, star Jeffrey Donovan reflected on the best villain in the show and why the character worked so well.
"I'd have to say Jay Karnes. He played Brennen. Jay Karnes, I mean a wonderful actor," Donovan said, going into detail about why:
"One of the things that I always say to Matt Nix and all the writers is never dumb down the villain. I think why the 007 series always works is because the villains were always these mega intelligent villains. And I said when you dumb down a villain, you dumb down Michael.
"Always make the villains smarter than Michael, but Michael just figures out the one Achilles heel that the villain has. And the closest person to ever do that was Jay Karnes. And an actor like that is incredible anyway but to put him in that role where he basically tells Michael, 'What are you going to do? Are you going to do this?' Well then I have the answer to that. 'Are you going to do that?' Then I'm going to do this. He always was one step ahead of Michael [but] a great villain, a great foe is that the villain is smarter than you."
THE VAMPIRE DIARIES As you saw in this week's episode, vampire hunter Connor (Todd Williams) was Elena's first kill. Pity we didn't have more time to get to know the bald one, but Williams - speaking after an early screening at The CW offices this week - said "Connor is actually, in a way, a victim of the tattoo. People assume that that's all that Connor wants to do is kill vampires and he derives some kind of pleasure from it, but it's quite the opposite."
While the mystique about the tattoo is going to be further explored now that Jeremy is sporting the ink, Connor died knowing exactly what it all meant: "He's a very tortured man," Williams said, adding that he has no regrets about getting killed off when he did: "[Connor] didn't even know his origins and his background. He's in search for so many things that there was a level of desperation that you can see in the kill."
Be it in a flashback or some TVD-way of bringing people back to life, Julie Plec said at the same screening that we will see Connor at least one more time after this week's episode. (You can find out more in my post-episode chat with Plec and writer Michael Narducci)
A Note On Cancellations Let's face it, having your favorite TV show die a ratings death sucks, and after the onslaught of new shows in the fall seasons, we're already seeing which shows are falling off the radar (Made In Jersey, Animal Practice) and which ones (Vegas, Emily Owens, Don't Trust the B----) are rumored to be next.
I was on set yesterday chatting with the cast of CBS' Partners and as shoot episode 11, the show's fate to get its back nine remains up in the air. Perhaps Presidential debates and Hurricane Sandy coverage will actually prove to work in its favor since the airings of their first five episodes has been sporadic at best.
And this past week, the '2 Broke Guys' episode (which I watched and realized the show is getting stronger and funnier each week) held steady in the ratings, which is a feat that should not go unnoticed considering time slot competitors Dancing With The Stars and The Voice.
But there seems to be an over-pontification lately on how we watch television while the competition for our attention is bigger than ever, especially when you also factor in top cable series like Honey Boo Boo and Duck Dynasty that regularly pull millions of viewers away from ABC, CBS, NBC, Fox and The CW.
I don't offer up a big solution in saving the struggling shows, but any honest TV journalist will tell you that we all have our favorites that we want to see succeed and we should never underestimate the power of social media.
That's where YOU come in. The power of a Tweet about your favorite show or leaving a comment on a post like this or checking in on GetGlue so others can see what you're watching... all these things DO matter. How much is uncertain, but if you love a show that is shaky in the ratings spectrum, spread the word any way that you can and hopefully the suits at the networks – broadcast and cable – will listen.
That's a wrap on this week's Notebook! Anything else you're dying to know about your favorite show? Leave a comment here or you email me directly at jim@jimhalterman.com. And remember: get all your TV scoop by following @TVFanatic!
Jim Halterman is the West Coast Editor of TV Fanatic and the owner of JimHalterman.com. Follow him on Twitter.