"You Can't Always Get What You Want" was like going to a family holiday when every relative you have is doing something to drive you absolutely nuts.
Mind you, not all of the chaos on tonight's episode was even from a Braverman perspective, but it sure made me wish I had worn some rose-colored glasses to get through the tough parts. Just like as there are happy times, so are there downright miserable times, and we encountered some of them this week.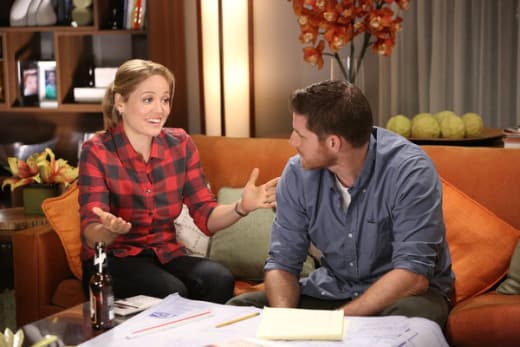 Joel and Julia: Julia has always been extremely controlling, so the idea of free time must be driving her crazy. She not only doesn't have a clue what to do with herself, but she doesn't have fires to put out all day long. That's a huge change after a years-long career that required hectic days and long nights. Once she set her sights on a second child, her life was like a runaway train. It came pretty close to derailing, but they found Victor and she quit her job to devote time to motherhood.
It's interesting to watch Julia deal with life as a new mother again, especially while unemployed. She has been throwing everything into accepting Victor into their lives, and that includes Joel's time. All of the teachers at the school had crushes on Joel (parents as well, I'm sure), not just because he was a cute, stay at home father, but because he got involved. Remember all the things Joel used to do with the other parents when they only had Sydney and Julia was working full time?
Joel put his career on hold to care for their child, and he did so selflessly. He could have sat around and twiddled his thumbs, or sat alone in the kitchen making homemade pasta, but he got involved. Julia seems to have missed that bus. She's only directly involved with the children's lives when Joel gets home from work, which makes it really difficult for him to now focus successfully on his career. Their argument was so emotional, and Joel finally said what we viewers have been thinking: have some respect for your husband, Julia! Let him have his chance.
Even when Julia apologized to Joel, she somehow turned it around and made the reason for her argument about her being unfulfilled. She had her chance at fulfillment. Now it's her turn to step back and give some room to Joel to grow in his pursuits. Once their family is solidified, I see no reason they won't be able to work successfully, but this was the path Julia wanted and to see her fight Joel at every turn is hard.
His gracious acceptance of her apology backed up what a strong man he is. I just hope Julia finds a pursuit of her own, that somehow involves her in the kids lives. A win win situation.
Crosby and The Luncheonette: I thought I was rid of Marcy Runkle when I stopped watching Californication, but the addition of Pamela Adlon as a resident neighboring The Luncheonette was like bringing her back on crack, without a sense of humor. Despite what we learned at the end, that The Luncheonette was built in a residential district and her suit against them has merit, I was totally digging Crosby's point. She never spoke to them kindly about making any changes, but barged into a place of business guns a-blazin' and thought someone was going to listen to her?
It was more proof how far Crosby has grown that he treated her so decently, because if she had done that in my place of business, in front of my clients, things would have ended differently. Sadly, since there wasn't a conclusion to the suit against them, Runkle will obviously be back for more episodes. Oh joy.
Amber and Ryan: Amber is learning what it means to care for someone else more than you do for yourself in loving Ryan. All of the interview tips in the world couldn't prepare Ryan for that extra special interview question, "did you kill anyone?" People can be so lame. It was so fitting that Amber turned to Zeek for reassurance of her feelings for Ryan and for advice on how to care about him. Not so much for him, but about him.
Amber doesn't want Ryan to feel as though she thinks of him differently, but she also doesn't want to become someone who does by reacting the wrong way to new information thrown her way. Chatting about returning from war with Zeek was a the perfect way for her to get a handle on things. 
Sarah and Mark and Hank: As much as I hate to make it a threesome, Sarah's childish behavior has forced the issue. She should have dealt with her feelings about Mark and their future together before moving in with him. What she's doing to him now is irresponsible and embarrassing.
Mark's reaction of pain was justified, and I was surprised Sarah was so blind to what she was doing by refusing to say no to Hank. I'm trying to figure out where she got so lost, but I can't quite remember when it was. Was it when her family made fun of her dating a younger man sometime around Crosby and Jasmine's wedding? Their relationship hasn't been right for a long time, but the way she continues to drag it out is sucking the charm out of her character. I find it hard to enjoy her quips and fast chatter because she seems to unsure of who she wants to be. 
The time for games is over and she needs to make a grown up decision. She expects Drew to make them, but she can't figure out how to do it herself, so that's a rather tall order on her part. I don't know about any of you, but I've lost my infatuation with Hank and worry that she's going to make a very bad choice. If she gets to make one at all. Maybe Mark will wise up and kick her to the curb. Could you blame him?
Kristina, Adam and Max: Oh geez. As soon as Kristina asked Max if she could show him what to do if he asked a girl to dance, and she said yes, I could feel the floodgates rising. Kristina didn't want to miss any milestones, and she probably never imagined she'd have a dance with Max. Max has been borderline impossible to stomach. 
Part of that is due to the lack of help at the Braverman house. Things are still out of control there, and so his school antics flood into their home life and I just want Kristina to eat more ice cream. She's going through so much, and wondering whether she will live to see the end of it. The one positive that has come from her illness, with regard to Max, has been Adam's communication with him. They've finally reached a place where Max listens and respects Adam as much s he does Kristina. When he wants to.
It wasn't my favorite episode of Parenthood Season 4, but neither are those holidays when the family seems to get in the way at every turn. Parenthood remembers to show us to good, the bad and the ugly, reminding us that our own families aren't so different. That's why we come back every week. 
Carissa Pavlica is the managing editor and a staff writer and critic for TV Fanatic. She's a member of the Critic's Choice Association, enjoys mentoring writers, conversing with cats, and passionately discussing the nuances of television and film with anyone who will listen. Follow her on Twitter and email her here at TV Fanatic.