Private Practice finally returned tonight after a three-week hiatus.
Unfortunately, "The Next Episode" was a bit lackluster, as I caught myself wanting to channel surf a number of times throughout the installment. I can honestly say that this has happened only maybe a handful of times.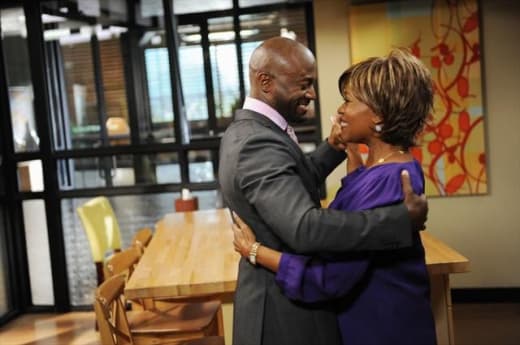 Blame it on my disgust for reality television, but the Sam-centric episode just wasn't for me. I get that Shonda and company are trying things a bit differently in this final season, but I much prefer the traditional Private Practice installments that encompass everyone's storylines. After this one, I can't say that I'm looking all too forward to what's to come.
While Sam explained his reasoning for why he had welcomed a reality television crew into his life a number of times, I still wasn't convinced. It all just seemed very strange and not typical of Sam by any means. He's always been relatively private, and the awkwardness felt a bit forced.
While I felt like most of the hour was a snoozefest, there were certainly a couple of special moments that are worth mentioning.
For starters, I adored the way the reality television crew illustrated how much Sam loved his mother. Although his anger was intensified behind closed doors, it simply went to show the incredible bond that he and his mother shared. He was indefinitely hurt by her lies of keeping his father a secret, but he also still found a way to forgive her.
I definitely understood why Sam was upset with Raymond, but I was shocked at the way things ended for these two. I was almost certain that Sam would want to try to get to know his father and insist upon helping to save his life. I often forget that not every story has a happy ending.
Elsewhere, the search for the missing girl continued to no avail. This was a total letdown, as I assumed there was a reason for showing how involved the parents, doctors and community were in spreading the word about Sarah's disappearance. Seriously, what was the point of dragging this storyline out in yet another episode without a real conclusion?
Will Sarah's search continue or are we supposed to believe that there won't be a resolution?
Other Thoughts
In spite of all that's happened with AddiSam, they are still there for one another on the roughest days. Their talk on the beach felt so real.
I loved how Sheldon was camera-shy and needed note cards.
Cooper might be onto something: a reality show about the Freedmans? I just might break my "no reality shows" rule.
If you were looking for the Violet Annoyance Scale, you won't find it this week.
With only eight episodes left, what are your predictions for the remainder of the series? Hit the comments because I'd love to hear your thoughts. Also, don't forget to return later this week to chime in on our Private Practice Round Table.