Private Practice pulled double duty last week, airing "Apron Strings" on Tuesday and "The World According to Jake" on Wednesday.
The two hours have given our TV Fanatic Round Table - comprised of staff members Christina Tran and Carissa Pavlica, along with readers Caitlyn, Beina and Jarrod - plenty to analyze, breakdown and debate.
Won't you pull up a virtual chair and join them?
-------------------------------------------
What was your favorite quote or scene from "Apron Strings" or "The World According to Jake?"
Christina: Addison's "I love you, and you're the last man I want to say that to. Let's get married." Secondly, I liked seeing that Jake wasn't "Mr. Perfect."
Jarrod: I'm with Christina. Addison's line to Jake was just perfect. So glad she can finally be happy in this final season.
Carissa: From "Apron Strings," when Addison went to the diner and told Henry's birth mother how important it was to her that she know she would always be a part of Henry's life. It could have gone so much differently, and cheers to Addison for figuring it all out.
Beina: My favorite scene from "Apron Strings" was when we saw Addison's flashback when she took Henry in her arms for the very first time. My favorite scene from "The World According to Jake" was Jake's proposal to Addison. It was very romantic and they were quite beautiful.
Caitlyn: Mine definitely has to be Jake and Addison getting engaged. The whole scene and conversation there was just perfect!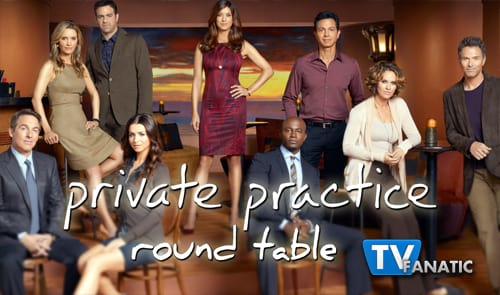 Character-centric installments: thumbs up or thumbs down?
Christina: Thumbs... somewhere in the middle. I do dig the focus on a single character each time, but I always find myself wondering what everyone else is doing or thinks. It just feels strange at times, so I guess I much rather prefer the traditional storytelling.
Jarrod: Both thumbs up for Addison and Jake's episodes. They were both great and both worked well in-sync for two nights in a row. I can't wait to see what Shonda has in store for characters like Sheldon and CharCoop, too.
Carissa: I like them. It helps to have a focal point to get from the beginning to the end of a story. While I didn't like the Sam story, it was only because of the reality show format. These two episodes gave us really interesting perspectives, almost like a movie - very enjoyable.
Beina: Thumbs up, I like them because they let us know things of the character that we have never noticed.
Caitlyn: I have to agree with Christina - my thumb is somewhere in the middle. It's cool to have a mini movie of our characters, but I miss knowing what's going on with the others. And it's actually a bit strange. So far, I still prefer the traditional way especially since I want to see more of our characters before the show ends. Also, the show has always been good at building story arcs that shape the characters and now everything seems so rushed.
What did you think of the Jaddison proposal?
Christina: I saw a lot of comments saying it was far too soon for these two to get engaged. How do you measure when you're in in love? Bottom-line: these two are right for each other. That said, the proposal simply felt right.
Jarrod: Once again, it just goes to show that although "Mr. Perfect" may be too unrealistic and not in reach for women that Addison somehow managed to nab him. Nevertheless, Addison deserves happiness with this man. So whether it was over the top or not, I was for it!
Carissa: Good all around. It wouldn't have been PP if it had gone perfect straight away. As it was, they both knew EXACTLY what they needed and wanted from each other by the time Jake set up the deck. I wonder if Sam was hanging out watching with a beer in his hand...
Beina: He's an old-fashioned man, he wanted to propose. I think he did it perfectly!
Caitlyn: As I said in my previous answer - it was PERFECT! It just showed that they both know exactly what they want and where they are in their lives. They're meant for each other.
Amelia bit the bullet and met up James for fries... what's next for these two?
Christina: Like Jake said, Amelia deserves happiness, too. If James can give that to her, sure... why not?
Jarrod: Though these two have chemistry, I'm just not a fan of him. Besides, if these two work out and become an item, it lowers the chances of Amelia joining fellow Seattle Grace-Mercy West characters back in Seattle next year.
Carissa: Hopefully, happiness. While I wanted Amelia and Sheldon to get there some day, we're running out of time, and James is hot and kind to boot. Quite a formidable combination!
Beina: They are very cute together, even if they look like brother and sister!
Caitlyn: Hopefully they end up happily ever after. Amelia deserves it after all she's been through. They've been hinting at her and Sheldon, but I think James is a much better much. I just hope we get to know him more.
Only six episodes remain on Private Practice Season 6?
Christina: I'll miss the dynamic and chemistry of the cast of course. I'll also especially miss the unusual, and sometimes even disturbing, medical cases with stories that other shows just couldn't tell. That's what made Private Practice worth watching.
Jarrod: I will definitely miss the characters of whom I've grown to love over the past five and a half years. I was just mostly thankful for the fact it got a sixth season in general, so these last six episodes will hopefully reflect back on how amazing and far this show has come by giving viewers exactly what they deserve: a perfect ending.
Carissa: They seem like my friends. I know, it's stupid that I do that with television, but we've been a part of their lives, and I've been in love with Addison since she was on Grey's Anatomy. Giving her a spinoff was one of the best ideas to pan out in ages. Mostly, I'll miss Kate Walsh on my TV screen each week.
Beina: Everything... characters, Addison's men, the kitchen, cast, promos, sneak peeks, spoilers, behind the scenes photos via Twitter, bloopers! I'm proud to have been following this series. I'd not have known these wonderful actors otherwise.
Caitlyn: I'll miss how the whole cast is with one another. The good thing about these character-centric episodes is that they have discussions in the kitchen again as a group - something I've actually missed. So I'll definitely miss seeing these characters together. But most of all, I'll miss Charlotte and Cooper! (Addison as well)