Christmas came a bit early for Private Practice fans, as we were treated to two new episodes this week.
"The World According to Jake" paired well with last night's stellar Addie-anchored installment. Although it was much less drama-filled, the still remarkable night was spent getting to know just Jake a little better. 
We left off with a proposal from Addison in "Apron Strings". How did Jake respond? Well, with Addie locking herself inside the bathroom, we found out that Jake didn't say anything at all. Actually, he just meant to say "not right now."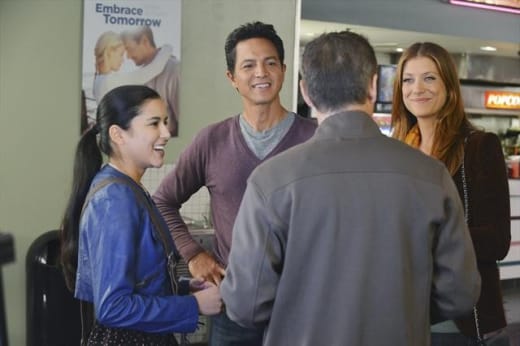 Flash forward to two weeks later, and Addie didn't want Jake to bring the proposal back up. Coincidentally, Jake had much more on his mind and to deal with to keep him busy.
It all started with Jaddison running into his stepdaughter, Angela, at the movie theaters. Angela was accompanied by a new boyfriend, who was much older... and also her professor. Of course Jake wasn't all too fond of the new guy. However, Ange couldn't care less for what Jake thought.
Following a dinner with both couples, Jake threatened Ange's new boyfriend to end their relationship.
Elsewhere, Jake's patient, Megan, also returned and was on her fifth time with fertility treatments. Megan felt like she was just waiting to lose the pregnancy, and needed Jake by her side constantly.
I was honestly a bit shocked when Megan kissed Jake. Then I was even more astonished when she lied to Addie about it. Ridiculous! I loved the way Addie stood up for Jake and didn't even flinch through Megan's lies. Talk about crazy.
Then, even when the meeting with the social worker didn't go so well, Addison was as calm as ever. Jake apologized profusely for what happened with Mildred walking on he and Ange's fight, but Addison didn't need to be consoled. She knew that everything was going to be okay. Jaddison really is spectacular.
Perhaps the best part of the night was the final minutes during the Jaddison proposal. Addison repeated her words from the previous night: I love you. You're the last man I want to say that to. Let's get married. This time around, Jake responded with a ring, and agree: Let's get married!
Other Thoughts
Jake is an Oklahoma City Thunder fan. He just earned maybe 50 bonus points in my book because I'm the biggest OKC Thunder fan ever!
James and Amelia… need to really happen. Amelia deserves a good guy.
The missing child storyline continued. Unfortunately, Sarah's still nowhere to be found. The parents are now dealing, though, thanks to Violet. Is this the last we've seen of Sarah's story?
How incredible was Marisol Nichols as Jake's deceased wife, Lily? I thought she did an incredible job and have missed her greatly since GCB.
Overall, this was an incredible installment and I truly liked learning more about Jake.
Only six episodes remain in this final season. Hit the comments now because I'd love to hear what you thought.