Sons of Anarchy introduced viewers on "Andare Pescare" to Mr. Mayhem.
No, not the moniker SAMCRO has ascribed to an act of murder. I'm referring to Jax Teller himself. The man is out of control these days.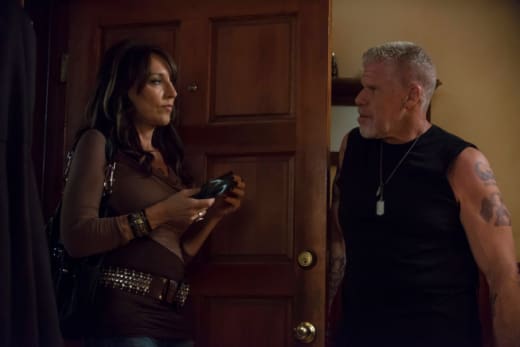 It's almost impossible to remember the Jax who so desperately wanted out of Charming a year ago. He's grown dark, vengeful, paranoid and obsessed with remaining at the head of the table.
Granted, Jax is right about Clay and he ought to take every step possible to out the ex-President as a club back-stabber and killer. But Gemma gave her son a passionate speech in his kitchen. She may be trouble, but she's also clearly troubled. And with an awesome, song bird-buying man like Nero in her life, this was Gemma's chance to - as she put it so well - feel "light" for a change.
But that's no concern for Jax. He's placing fake family in front of real family and still insisting that his mother return to the man who went all Chris Brown on her just a few months ago. Forget the ramifications this may have on Gemma, Jax is solely concerned with the stability of SAMCRO.
What happens to the deal with the Irish if Gemma even gets her proof? Is Clay voted out? Does he meet the other Mr. Mayhem? Either scenario would jeopardize the club's standing with the CIA and the RICO case, which is the reason Jax isn't simply killing Clay himself... right? So I'm not entirely sure what the end game is here or how it ties into the basis for why Clay has been kept alive this whole time by his step-son.
Then there's Jax's take on Juice. We don't know his plan yet, of course, but the show at least wants us to believe at the moment that Jax has no tolerance for club members who rat. That sounds all well and good on the surface, but there are always various sides to a story. My prediction? Jax ends up confronting Juice and using the Roosevelt intel as yet another form of blackmail.
Juice will need to turn on his very shady mentor, Clay, in order for his secret to remain just that: a secret.
Those were the main pair of takeaways from a mostly slow episode. The final 10 minutes were exciting, laying the seeds for two major storylines as Sons of Anarchy Season 5 heads toward a conclusion. But the bulk of the hour was spent chasing Frankie Diamonds, only for him to predictably kick it before Jax could get him alone.
Oh, and it was also spent on Otto jerking off. Dare I call that the most moving masturbation scene in television history? Only Kurt Sutter could turn such an act into a revealing moment of sentimentality.
Yet I must say I am legitimately perplexed by Tara following self-pleasuring suit. WTH?!? She appeared sympathetic to Otto's plight during the infirmary scene, but not aroused obviously. Why does she then use the perfume for the same purpose? Because she's turned on by this dark lifestyle in general? That's quite the stretch. I'm really not sure what the series was trying to say there.
So we're left with Jax trailing Juice and Gemma treating Clay. Both developments are intriguing. Will Nero find out about the latter? What will Clay reveal to Gemma? How will this arrangement affect the battered woman? How tightly will Jax squeeze Juice? If Otto recants his testimony, will the RICO case die and, along with it, Jax's hesitation to off Clay?
Questions surround the club in this homestretch, which is where Sons of Anarchy really excels. SAMCRO may face constant external threats and pressures, but the internal battles - within individuals themselves and the club as a whole - that keeps the show's engine humming.
Matt Richenthal is the Editor in Chief of TV Fanatic. Follow him on Twitter and on Google+.