After a long hiatus, The Simpsons finally returns with "Adventures in Baby Getting."
Although this year's Treehouse of Horror reminded me of how much I'd miss the show once it's gone, this installment really made me think the sitcom is ready to end. It's not that the evening wasn't slightly entertaining, it just seems like the series is running on the memory of its former glory. And that's nothing new.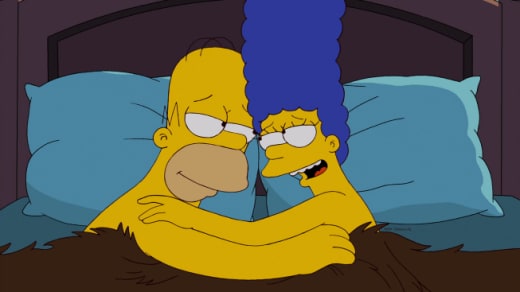 The usual couch gag was replaced by some political commentary about the upcoming election. It was funny enough, but at this point, I think we're all a little tired of the election. An innovative couch gag would have been preferable.
The half hour centered around Marge's subconscious desire for a new baby, which manifested itself as a deep-seated hatred for the new car that would limit the family to three kids. A new child would be an interesting twist, but adding younger children is a pretty common move for shows on the way out.
While Marge was really ready for another baby, Homer was less enthusiastic about a new bundle of joy. However, he, as usual, was unable to be upfront with Marge for fear of disappointing her. Luckily, Homer can't conceive a new child (he does work in a nuclear power plant!), but Lenny helpfully reminded him of his "deposits" at the Shelbyville Sperm Bank.
The trip to the bank allows Homer one last opportunity to stall Marge and remind her of how good life could be without kids. But his manipulations don't work (obviously!), and Marge gets upset with him. In typical Simpsons fashion, Homer comes around to the idea of another child, and then Marge changes her mind. The whole resolution was so expected that Marge even predicted it.
In the end, it's probably for the best that there won't be a new baby Simpson, especially because Maggie is still in diapers. Plus, it does seem like there are way too many Homers in the world.
The most amusing part of the episode was when Homer had no trouble getting his last sample back. That couple look horrified by the sight of their baby's possible donor. Did you find it funny?
The secondary plot of the episode involved some criticism of the educational system. Bart finds out Lisa is involved in some secret after school activity and assembles a team filled with her exes to find out what it is. It turns out Lisa is learning cursive writing from the former principal of Springfield Elementary because the school no longer teaches it. The reveal was a rather dull.
Other than some amusing The Simpsons quotes, there wasn't much distinguishing this episode from any other lackluster episode.