A day after The X Factor top 8 took to the stage and sang for their lives via a slew of number-one Billboard hits, the axe came down on two more contestants tonight.
Did your favorites make the cut? Are you surprised over who was sent home? Let's get right to the results, shall we?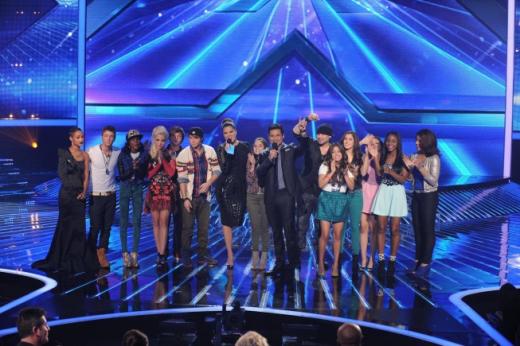 Fewer than 10 minutes in, we learn the identity of the singer with the least-number of audience votes.
And the first finalist voted off is... PAIGE THOMAS! Mario Lopez labels it "a bit of a shocker," but not really. She can't really sing or dance very well.
The real shocker took place about a half hour later when we learned the bottom two was comprised of Diamond White and Vino Alan. Really?!? Did America not see CeCe Frey perform on Wednesday?!?
Diamon goes with Beyonce's "I Was Here" for her survival song, while Vino chooses "Trouble." Will he be in some once the evening is over? Yes.
With only L.A. Reid voting to send Diamond packing, VINO ALAN is eliminated. Did you agree with these results?
Matt Richenthal is the Editor in Chief of TV Fanatic. Follow him on Twitter and on Google+.