Dexter Season 8 to Represent "Tragic Turning Point," Producer Teases
Matt Richenthal at .
With Dexter Season 7 scarcely in the books, and with LaGuerta's body likely still warm, TV Guide chatted with showrunner Scott Buck to gain insight into the final season of this Showtime smash, with all eyes now focused on Dexter and his murderous step-sister.
As you might expect, that final scene "is definitely going to affect [Deb] and Dexter in a very big way," Buck teases.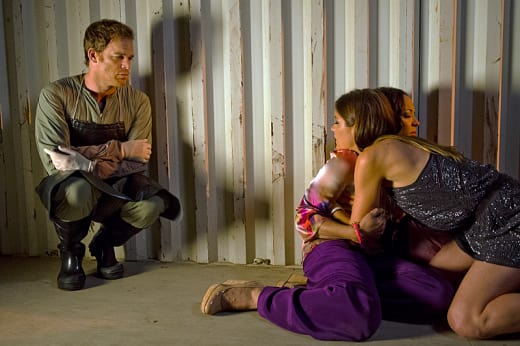 For starters, will Dexter even be able to cover up for Deb, considering she used her own gun for the kill?
"He can still implement that plan," Buck said of Dexter's scheme to frame Estrada for the murder. "He might have to make a few quick changes there, but this is someone who has covered up a lot and is a forensics expert and will know how to deal with this - especially if you're the forensics expert on the scene collecting the evidence and interpreting the evidence."
Among other topics Buck discussed:
The Deb/Dexter relationship: "It's definitely a turning point for the two of them and that's going to be a lot of what we explore in Season 8. This is going to have a huge effect on both of them. They're not just bonded in their complicated brother-sister relationship anymore. Now, it's imbued with this tragedy they both share."
Will Hannah return? He very much hopes so.
Look for flashbacks to Dexter's childhood. "We've heard Harry's version of what happened and we've seen some flashbacks, but I think we can widen the scope of that and see that Dexter had a slightly different beginning than even he imagined," Buck says.
Will anyone else at the Miami PD be on the trail of Dexter? No. "Towards the end of Season 7, no one was believing anything that LaGuerta was saying about this and it looked like Dexter has effectively put that to rest."
Read the full interview with Buck now and then grade Dexter Season 7:
Matt Richenthal is the Editor in Chief of TV Fanatic. Follow him on Twitter and on Google+.