Sometimes it's better to give people the benefit of the doubt.  
In the case of "Broken Hearts," assuming Abu Nazir knew exactly what he was doing throughout the entirety of Homeland Season 2 makes him a much more interesting villain.
When Brody was brought in to see the big guy a short while ago, Nazir let him go, giving him instructions on what to do next. If his plan to ruin the homecoming by getting Roya there as a member of the press was just a ruse to lure Brody into turning on him, it makes Nazir seem really smart, which is exactly what we want to see out of an evil mastermind.
An alternative explanation could be that Nazir let Brody - a man who had loyalties that were obviously questionable at that point - back into the wild, and actually had the confidence that he wouldn't turn on him. That would have been dumb.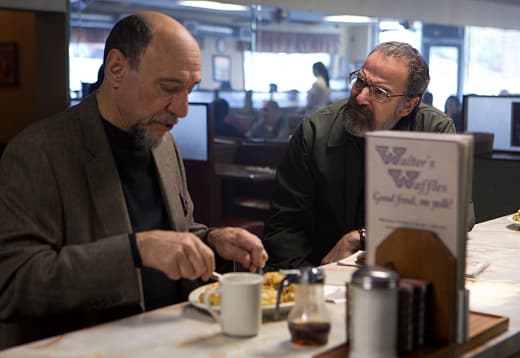 No, instead, Nazir allowed Brody to foil his bogus plan so that the Americans would enjoy their small victory and therefore relax. Sure, he had to accept the deaths of some of his soldiers, but they all know that fate is coming for them sooner rather than later.
The relaxed state from the CIA gave Nazir the opportunity to take Carrie and then strong-arm Brody into executing his plan all along: the murder of Vice President Walden for being the man responsible for the death of Issa and many other innocents.
Then again, maybe the guy is just shooting from the hip and winging it, but it might make things more interesting if you believe that Abu Nazir has been a man with a plan the entire time.
Getting it done, however, took the hate and the love of two men. Nazir and Brody both loved Issa with all their hearts, and similarly hate Walden for what he did. Watching that emotion pour out of Brody as the Vice President's pace maker began to malfunction was just a thing of beauty.
As he explains his reasons for stepping out of the Vice Presidential race, you could see the joy in his eyes. When he released the haunting, "I'm killing you," you could see the hate in his catharsis.
Let us not forget that Brody wouldn't go through with any of it until Carrie was safe and sound. Whether he's in love with her or not, it's obvious that he's not a monster. He needed Nazir to let her go before he would move forward with the plan for Walden. Brody's compassion - or maybe his love for Carrie - outweighed his hatred for the VP at that point.
Thankfully Nazir is a stand-up terrorist, who let Carrie go and make her way to safety. Unfortunately, the former mental patient was back to her crazy ways as the episode ended with her grabbing a lead pipe, returning to the building she was held captive in and searching for one of the most dangerous men in the world.
What?!?! What was going on in her head that made her think that was a good idea? Come on Carrie! You're better than that!!
Meanwhile, as the rest of the CIA was trying to play catch up with everything that was going on with Brody, Nazir, and Carrie, Saul was caught up in an issue of his own.
If curiosity killed the cat, then it might be time to hypothetically shave that beard into some whiskers, because Saul Berenson is in some trouble. He kept questioning and prodding. He wanted to know what exactly Quinn was doing, who was in charge of it all and why the man was involved in their mission.
Those are all great concerns, but I'm specifically curious as to why a soldier whose job was to kill Brody once he was no longer needed was put in charge of the entire operation. Wouldn't it have been easier to just let him sit on the sidelines until it was time to do the deed? I know he needed to keep an eye on the guy, but putting him in charge certainly made him someone to question, which Saul eventually did.
Oh yeah! It would have made it much more difficult to Homeland to make Quinn a main character if he wasn't overseeing everything.
So now Saul has been taken off the grid, we would assume by Estes, Quinn, Adal or some combination. Will he be in serious trouble for just asking questions? Will the fact that he knows a bit more than the CIA would probably like him to know make him a problem for the company?
What will happen to Carrie? How will Brody's path change now that Walden is out of the picture? What does Abu Nazir have on his agenda next? With how quicklyHomeland Season 2 seems to move, I'm sure we will have answers to these questions and more in no time.
What did all think of "Broken Hearts?"
Dan Forcella is a TV Fanatic Staff Writer. Follow him on Twitter.