Please don't jinx me, I have too much too say about the first half of tonight's How I Met Your Mother two-part Playbook finale. "The Final Page, Part One" had it all, including an unusually silent Barney. 
Before we get to the gang, let's discuss tonight's two guest stars:
Peter Gallagher, forever Sandy Cohen to this fan of The OC, did well to make me forget one of my favorite fathers of television and played Ted's obnoxious/inspiring professor well.
The other cameo, unlike a stalled out hacky sack, did not sit as well with me. I am a fan of Seth Green and his many talents, but all I could hear when he spoke was Chris Griffin. I also was waiting for the lawyer in Marshall to speak up and claim that check, which he and Lily were entitled to for the use of their likenesses in the Three Hackmigos business.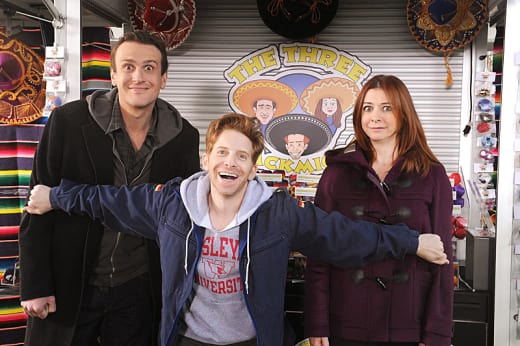 Despite two headlining guests, the best supporting performance went to Alexis Denisof, whose scenes as Sandy Rivers provided some of the night's best laughs. My favorite of which was when he gave Robin kudos for the old "fire and bang." He also won the holiday sweater award hands down. 
Getting back to the main How I Met Your Mother cast, while this season has been the pits at times, I thought tonight was a return to greatness with references such as the pit in Silence of the Lambs. Thanks to Buffalo Bill and his basket of lotion, we now have a new How I Met Your Mother term that I will most certainly use. Who would you choose as your "pit" person? 
While I have been critical of some cast members this season, Josh Radnor has picked up the slack and then some. His Yom Kippur jinx line made my list of top How I Met Your Mother quotes this week, but he also was very entertaining throughout the entire trip back to his alma mater. 
Robin missed out on the fun, but her scenes at work, like those previously mentioned with Sandy, were a holiday treat. I also never tire of her interactions/clashes with Patrice. Her Sean Connery voice sort of threw me in her pit scenes, but still were darn funny. 
Marshall and Lily were along for the ride in more ways than one, but Marshall did add some humor as he reminisced about his prom and issued warnings about settling revenge fantasies through dance. 
As we approached the half way point of the night, there was no doubt as to the best moment of Part One. After being held silent for longer than we have ever seen, Barney made up for lost time when Ted freed him of the jinx. Like Aladdin freeing Genie, Ted unshackled the show's star allowing him to reign down the funny on us all. 
Before moving on to part deux, let us know what you thought of the gang's road trip and hi-jinx.