There was a lot more going on than just "Trouble in Candyland" on Parenthood, that's for sure.
It seemed the only person who was having a good time, for a change, was Kristina. Considering everything she has been through, she deserved a break. Everyone else kind of made their own beds and were stuck sleeping in them.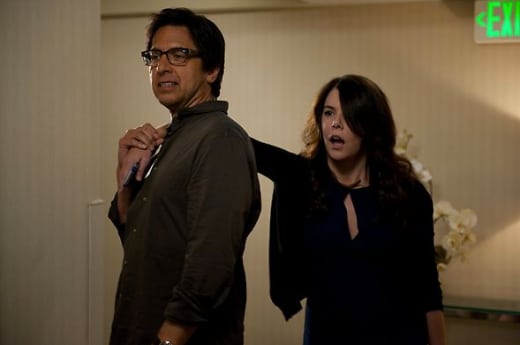 The Luncheonette: I still greatly disliked and didn't want to see Marlese, but Crosby was just being an idiot. There was no reason whatsoever people should still have been parking in the alley and antagonizing Marlese. The Luncheonette was already served with court documents putting the entire business in jeopardy, and Crosby's inability to make changes was irresponsible.
If he had been in business anywhere else in the country, he would have been in grave danger of losing everything he and Adam had worked so hard to accomplish. Luckily, he chose to revive a legend, and the local businesses and other residential neighbors recognized what they did for the area. Quite a save.
Julia and Victor: Despite Julia's best attempts to work with Victor to improve his math skills, nothing was working. It really drove him crazy when Sydney knew all the answers while she was still a year and a half younger than him.
Julia went to the best mother she knew for answers, Kristina. Her timing was impeccable. As Kristina said, "I was just dopin' it up." It was a hilarious moment, but it also gave her just what she needed to give away her best kept secret. Bribery. Check out the Parenthood quotes section for more of what she and Julia talked about and to discover her secret. Julia gave it a whirl with Victor, and while he didn't ace him math test, he gamely studied to get in on the game.
Joel and Ryan: Amber asked her uncle for a favor – to give Ryan a job. You could tell Joel was hesitant, but he was willing to give it a try. As imagined, things didn't go to great for Ryan on the construction site. I'd like to point out one example that I didn't think was his fault.
He was carrying some long pipe and, granted, it was new to him and he may have been carrying it wrong. However – it was not helpful in the least for someone to scream at him to watch how he was carrying the load, because Ryan felt obliged to answer. In doing so, he turned his head, from the neck and shoulders and, in turn, smashed the pipe into a bunch of standing windows. Seriously, that could have happened to anyone.
Ryan is the kind of kid who would feel impolite if he didn't answer, but he also wanted to try to prove he could do it on his own. After another mishap, he walked off the job. The last we saw of him, Joel was knocking on his door while he downed some pills and drank a beer.
I don't expect he'll go to extremes and try to off himself, but he was definitely trying to dull the pain of feeling worthless. It's a really easy trap to fall into and I hope he thinks things through and shows back up at the site, asking for a second chance.
Mark and Sarah: Was this the last we've seen of Mark as part of the Braverman family? Even after finding Sarah and Hank drunk hanging on each other for support, he was willing to give her the benefit of the doubt. That is, until he spoke with Hank and Hank spilled the beans about the weekend being a bogus business trip.
Mark understood when Sarah needed to help Seth, as he was the father of her children. But Hank? He was nothing to Sarah. To choose a weekend of helping Hank over one Mark and Sarah had planned for months was the ultimate betrayal, and Mark broke things off with Sarah. Sarah will have to go home with her tail between her legs, to Camille and a Christmas photo with Mark in it before the holiday even arrives.
The only good that can come of this development is if Sarah does indeed move back into the garage, we'll get to see more of Zeek and Camille and that's never a bad thing. I've missed them. There hasn't been a lot of need for them since she's left the nest. I suppose it's either Mark or Zeek and Camille.
One thing I think we learned during the weekend. If there was a spark at one time between Sarah and Hank, it seems to be waning. By treating Mark so poorly, Sarah ruined any of the fun there was to be had with she and Hank. I don't see how her story can have a happy ending at this point.
What were your favorite parts of the episode? Sound off in the comments!
Carissa Pavlica is the managing editor and a staff writer and critic for TV Fanatic. She's a member of the Critic's Choice Association, enjoys mentoring writers, conversing with cats, and passionately discussing the nuances of television and film with anyone who will listen. Follow her on Twitter and email her here at TV Fanatic.