The final four fought it out for a spot in the The X Factor finals Wednesday night. Who did enough to earn their position? Who will be left out? Let's recap what all went down...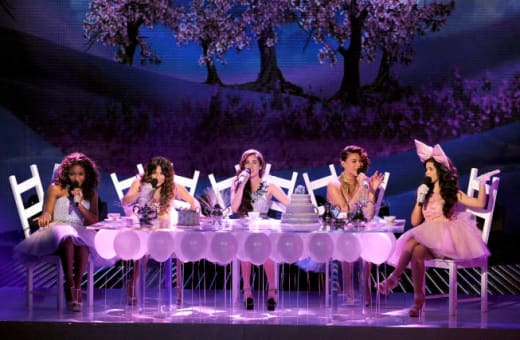 Tate Stevens - "Bon Fire"
Unlike much of Tate's past performances, this felt authentic.  It still didn't blow anybody out of the water, but he was comfortable, and his tone sounded better than it ever has.  He still lacks vocal power, but he's done enough to keep all the fans he already has.
Grade: B
Carly Rose Sonenclar - "Your Song"
There's something so interesting about what Carly did with that performance. Her vocals were earth-shattering, we all understand that. The amazing part was what she did stylistically. It's one thing to change an iconic song drastically, it's completely another thing to mix it up so slightly and still have it sound completely different.  That's what Carly did with this Elton hit, which really made it fantastic.
Grade: A-
Emblem3 - "Baby I Love Your Way"
I couldn't agree with the judges more on this one. They all thought it was Emblem3's best since the audition, and so do I. It sounded like THEM, and the track was perfect for the main dude's voice. Even the thing that I would normally complain about - repeating the chorus over and over for much of the performance - was still extremely entertaining because the three kids were having so much fun while doing it.
Grade: A
Fifth Harmony - "Anything Can Happen"
I can't believe L.A. left me out on an island as the lone Fifth Harmony hater! He thought this was their best vocal performance ever, but I just thought it was another boring game of pass the mic down the line. The outfits and scenery didn't help much either.
Grade: C
Tate Stevens - "Fall"
This guy talks about his wife so much that it's difficult not think about the emotion he should be pouring out in his performances. When comparing an outing like this to what Nicholas David did for his wife on The Voice the other night, Tate looked like he has a heart of stone. The vocal was very nice once again, but we need more than that big guy.
Grade: B
Carly Rose Sonenclar - "Imagine"
What Simon called overcomplicated, I would call a confusing mess. She began the first third of it in an extremely boring manner, and then out of nowhere she belted out a huge note that didn't fit with the song at all. All the changes that worked so well in her first performance were exactly what killed her here.
Grade: C+
Emblem3 - "Hey Jude"
Oh Demi, you don't think they're the Beatles yet? What a comment. We all understand that Emblem3 is not the Beatles, but that performance right there, that was something kind of special. The build that they used, especially when they jumped onto the stage and kicked it up a notch, was fantastic. I was worried that the riffing at the end was going to ruin it, but Wesley taking one of them off of Keaton's hands made it work. That kid can turn anything into gold. If I'm one of the other two, I would just be worried about still having a band when this show is over.
Grade: A+
Fifth Harmony - "Impossible"
If you're going to do a song that you've already done - especially as a group - you have to really make it different. Their original performance of this track was when I knew that they weren't going to be all that special, because they just took turns with solos. That's basically what they did this time around as well. Adding Spanish to some of those solos did come across as inventive as much as it did forced.
Grade: C-
Weekly Rankings
1. Emblem3 A/A+
2. Carly Rose Sonenclar A-/C+
2. Tate Stevens B/B
4. Fifth Harmony C/C-
And that's it! Only three out of the four can make it to next week's finale. Who is getting your vote?
Dan Forcella is a TV Fanatic Staff Writer. Follow him on Twitter.