We traveled back to 2004 this week on Up All Night.
"The Wedding" took us back to the beginning, where Reagan and Chris went from Vegas to verklempt as they opted for a wedding in front of their family and friends.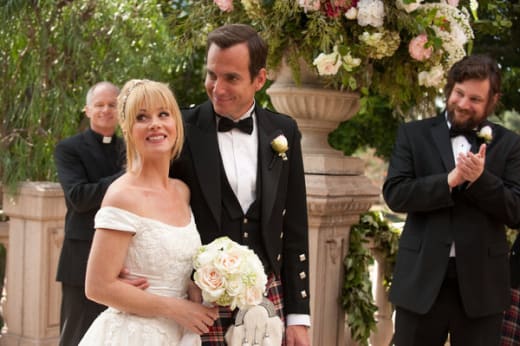 I couldn't decide whether to clap for or call out Chris's Meet the Parents reference as he complimented Blythe Danner during his rehearsal dinner speech. The associated scenes did not offer leave much room for indecision, though, as I thoroughly enjoyed all the issues the two betrothed to be faced with their parents, from "living in sin" to the bride not being the only one to show off her legs at the ceremony, which was featured in this week's best Up All Night quotes. 
Scott and Connie's pregnancy took a backseat to Ava and Walter's big news and justly so. I loved that we got to see what the two were like together before the breakup we have heard so much about. Sean Hayes was at his best this week, dreaming of a Blackberry and playing the harp while Ava belted out some Bible passages. She was at her funniest, however, when she improved a possible theme song version that was reminiscent of The Cosby Show theme. 
Chris and Reagan's vows were also improvised, but the sentiment behind them was proof of the bond they had formed. As an added bonus, we saw where the name Amy came from as Reagan and Chris came full circle and donned their cowboy hats for a private champagne toast to their union. 
I'd like to raise a glass as well to the happy couple and a great season thus far. What did you think? And are you looking forward to the sitcom moving in front of a studio audience when it returns next year?