When Body of Proof Season 3 premieres on February 5, viewers will be in for change. A lot of change.
John Carroll Lynch, Nicholas Bishop and Sonja Sohn are all out. Elyes Gabel is in as a cocky detective and Mark Valley as a man from Megan Hunt's past.
Why the shake-up?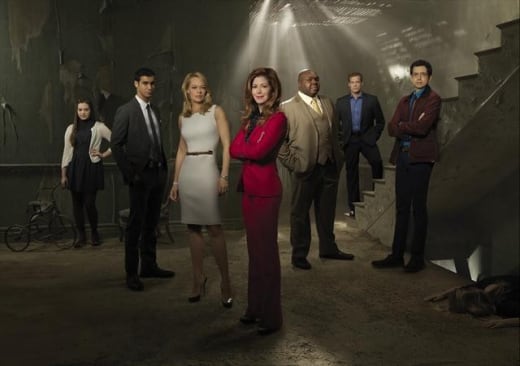 Because ratings increased for the serial-killer based storyline that concluded Body of Proof Season 2, executive producer Matthew Gross said yesterday at the Television Critics Association press tour:
"We decided to continue that momentum to make stories that are more thrilling and have more stakes. We wanted to inject more octane in the show."
Along those lines, look for Megan and the team to not only solve murders, but actually set out to prevent the crimes.
"We open the season with a two-parter that's part thriller that I think we're very proud of," said producer Evan Katz. "There's some thriller aspect to it. It was kind of interesting to combine that with a procedural and it's not that commonly done."
With Katz having worked on 24, Valley joked that there should be a "time clicker in the bottom of the screen" each week now.
And just why did producers select Valley for the role of Detective Tommy Sullivan, with whom Megan will often clash?
"Megan is a force to be reckoned with, and very quickly people sort of fall in line behind her," Gross said. "We wanted someone who would stand up to her."
Producer Christopher Murphey added that viewers will see "Megan's personal life" injected "into the actual causes" on Season 3, which means we'll see more of her daughter at the office.
Also on tap:
Jeri Ryan's Kate will run for Congress.
A mystery will pop up related to Megan's father's suicide.
Season-ending resolution, as Katz teased that after the 13 new episodes "we have a really nice end that sort of revolves what happened to Megan's dad ... and, to an extent, the relationship with Mark. We've sort of designed in some interesting twists."
Matt Richenthal is the Editor in Chief of TV Fanatic. Follow him on Twitter and on Google+.