Castle's loft was overflowing with women when both his girlfriend and his ex-wife moved in on "Significant Others." Awkward! And, as Darby Stanchfield warned us earlier, Meredith brought with her lots of naughty fun.
But how will the deep fried Twinkie's visit affect Rick and Kate's future? Our Castle Round Table team of TV Fanatic writers Jim Garner and Christine Orlando are joined by Castle fan Ginger from The 12th Fan Forum to debate the damage done by exes on the latest installment of this ABC hit.
-------------------------------------------
1.  What was your favorite scene?
Jim: I loved Meredith and Kate walking in and freaking Rick out. I'm not sure I want to be in that situation... EVER.
Carla: I wish I could say something different than Jim, but Meredith and Kate walking in and fooling Castle was hilarious. It's not often that he gets punked like that, so that was a stand out moment. The War of the Roses art smashing scene was another fun one.
Ginger: I loved the scene where Castle was worried about his worlds colliding. That reminded me of an old Seinfeld episode of a similar theme where "relationship" George was killing "independent" George. But, the nod goes to the scene with the Ryan and Esposito talking to Castle about his mistake in letting Meredith stay at the loft. The boys whistling the fall off the steep cliff cracked me up.
Christine: Rick begging to know what Meredith told Kate over dinner and her admitting she might like him even more now. It was sweet. I only wish they hadn't been interrupted. Close second was Ryan and Esposito. They were great throughout the episode.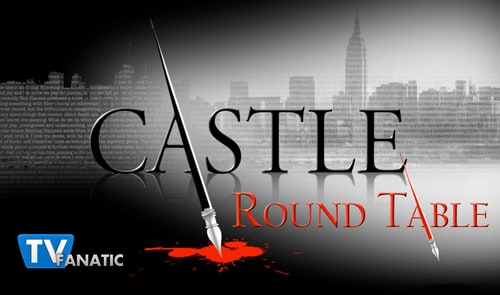 2.  Should Castle have let Meredith stay at the loft?
Jim: I would have said yes; the mother of my daughter wants to be close to her child. But I would have set some frakking ground rules having to do with PANTS. Uou must wear pants in common areas!
Carla: Probably not, but his intentions were good. He let her stay not because of their prior relationship, but for Alexis. His daughter's needs should be a top priority. Though, he should have at least discussed it with Kate before agreeing to let her stay. That would headed off any problems.
Ginger: No, he should have asked her to stay at hotel. Of course, she has every right to see Alexis, and he easily could have offered to pay for the hotel.
Christine: I felt for Caste because like Jim, I get it. It's the mother of his sick daughter. But the fact that he'd previously bragged about having ex-sex with Meredith to his current girlfriend, smart money would have been on a hotel.
3.  Was Meredith being honest about her and Castle's breakup or was she playing on Kate's fears?
Jim: Is Kate afraid that Rick is too reserved? I think she was being honest, but I don't think Rick is the same with Kate as he was with Meredith. I'm pretty sure he would tell her anything.

Carla: I don't think she was necessarily playing off Kate's fears, but I think she did want Kate to recognize Castle's closed-off-ness and was being honest about that. Perhaps if Kate is aware of it now, she can get him to open up before it becomes a problem in their relationship. Though, I really saw it more as a plot device to re-introduce the question about Castle's father more than anything.
Ginger: Meredith is cunning and this is what she has told herself is the cause rather than her infidelity. So, I believe it is her version of the truth. Kate will use the information to deepen their relationship as she is interested in Rick Castle the man rather than the famous author. Meredith's comments about Rick using humor to hide his feelings about his Dad are true and this sets the stage to explore this in future episodes. I think watching that unfold will be great.
Christine: I'm with Ginger. In Meredith's head, she told the truth. Unfortunately she left out the part where she was tasting someone else's souffle.  Hopefully Meredith's insights lead Kate to ask Rick what broke up his marriages because that's the answer that really matters.
4.  Lots of guest stars on this episode. Jack Wagner (Bold and the Beautiful, Melrose Place, General Hospital), Nancy Lee Grahn (General Hospital) and Mark Deklin (GCB). Did you have a favorite?
Jim: Jack Wagner was pretty cool as Billy, and still damn good looking. I'll go with him.
Carla: In general, I love that so many soap actors end up on Castle. It's nice to see them outside of their normal soap roles. Of the ones on this episode, I enjoyed Nancy Lee Grahn the most. It was a fun departure from her role as Alexis Davis on General Hospital.

Ginger: They were all great. But, the scene with Nancy Lee Grahn as the former Mrs. Voss stood out for me. It was very funny and she didn't miss a beat while destroying the community property.

Christine: They were all standouts. Jack was more intense that I expected and Nancy was downright fun but it was great to see Mark Deklin again as he spoke to Beckett over soda in the hallway. He was such a cutie in the now cancelled GCB. And I can't get enough of those eyes.
5.  Do you love or hate Meredith?
Jim: I love her as Abby on Scandal does that count? Seriously, I'm so hooked on Scandal that it was really all I could see!
Carla: If she shows up once every few years, I love her. Too much Meredith would be a bad thing.
Ginger: Darby Stanchfield has done an amazing job of creating a character I love to hate but rarely see. She is memorable.
Christine: I love Darby. Abby on Scandal, Shannon Gibbs on NCIS and Meredith are all such different women yet all great characters. We've only seen Meredith twice in five seasons but fans can't stop talking about her. She's fun and a little naughty and loves to cause trouble. How can you not love that?
C. Orlando is a TV Fanatic Staff Writer. Follow her on Twitter.