Can't get enough of soapy dramas such as Revenge? Then you'll want to make sure to tune to NBC tonight for the series premiere of Deception.
At yesterday's Television Critics Association panel with the show's cast and executive producers, we found five reasons to check out the new nail-biting drama...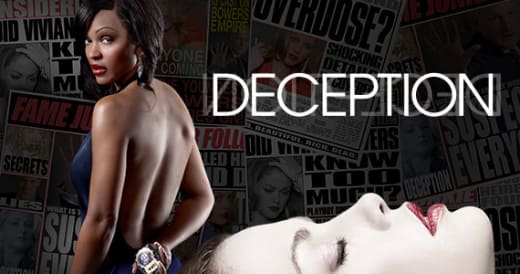 Oodles of mystery: How long ca this type of show sustain its mystery? Creator Liz Heldens says "the plan that we've always had in our heads is to reveal to the people watching, to the audience, who the killer is. And Joanna [Meagan Good, playing a detective] will probably have a pretty good idea, and the second season is about proving it."
It's Hitchcock – not Revenge – inspired: Said Producer Gail Berman: "Notorious a favorite movie of mine and so it all sort of fell into place based on the fact that what Liz [Heldens] was talking about and what I was thinking about in terms of Hitchcock... the kind of thriller that we thought NBC might be looking for."
The actors really get their duplicitous roles: "When I read the script," Victor Garber said joked. "I thought 'I understand this because I lie all the time... I just loved the idea of being somebody who has so much going on and they have to compartmentalize, and we all know people like this... ultimately at the bottom there has to be truth, and usually people are doing something and thinking something else. That's just the way I live, frankly."
Lead Meagan Good has real life law enforcement experience: "My father was LAPD for 26 years," Good said, "and his wife was FBI. So I got a lot of good insight that I can't go into depth about without getting them in trouble…one of the main things was just the mentality that goes into living that lifestyle and potentially what you can lose and what you can't engage and hold as value…"
Diversity rules: Asked about the racially diverse cast, Heldens said it's not a big story point in the show. "It is a way to sort of deal with race without actually having to talk about it. But it's not really something we talk about too much in the writers' room. Good added: "One thing that I thought was really cool is when I read the script, the characters were not specified race."
Watch a Deception trailer now, as the series premieres tonight at 10/9 on NBC.
Jim Halterman is the West Coast Editor of TV Fanatic and the owner of JimHalterman.com. Follow him on Twitter.