Behold, American viewers: the Downton Abbey Season 3 premiere is finally upon us!
It was strange to watch Matthew and Mary trying to get to know each other after all the years they've spent doing just that. But I suppose all the lies and the hiding of feelings makes their entire lives a fresh start in a way.
Matthew wanting to try to do it without the prying eyes of her family was sort of charming, although I could thoroughly understand Mary's desire to have her loved ones nearby. Time will tell if the house is as large as Mary thinks.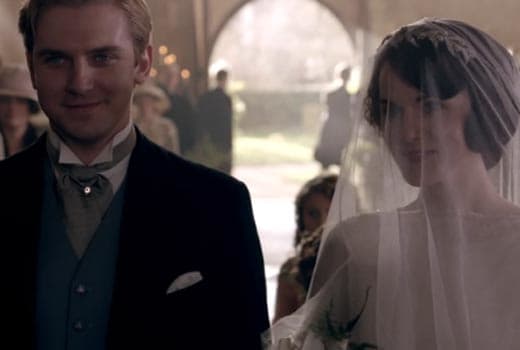 What awful timing for Robert to find out they are broke. As if he wasn't already under pressure to put on a grand affair after a war that did quite a bit to alter the family's lifestyle - and now he discovers he's practically penniless in the face of a wedding that will impact the morale of an entire village. That's a lot for any man to take.
It was so sad to see what happened to the relationship between Sybil and her family because of her marriage to Tom Branson. They were barely accepted at the house. They seemed blissfully happy with their lives in Dublin, and so miserable when they were with the Granthams.
It was perfectly Downton for it to take an old suitor of Sybil's spiking Tom's drink for the family to finally understand and accept Tom for who he is. When Matthew asked Tom to be his best man, I actually cried with relief. The look of happiness on Mary's face was a beautiful wedding gift. How could they have known at that moment he was also their best chance at ensuring the ceremony would go forward? Matthew was right: he and Tom were in it together with those strong willed Crawley women. 
Isobel and Violet forcing Tom into a Morning Coat was priceless. The sheer power of the women of Downton Abbey was almost impossible to beat, and then Shirley McLaine as Martha Levinson hopped out of a car. I couldn't help but hope that she might be an ally to Tom with her stark comments and inability to keep her opinions to herself. 
Matthew is, once again, an heir to an extraordinarily large sum of money. Some people are born with all the luck! This time it was Lavinia's father leaving Matthew as the third in a line of possible heirs. Matthew was adamant he couldn't keep the money if it became his, as was becoming increasingly likely. Mary figured his inheritance would solve all of Downton's problems, and Matthew's disagreement on the topic meant, to her, he was against everything Crawley. 
Poor Matthew, hoping to start a life with Mary in a far less grand way than they were accustomed, again being thrust into the financial spotlight as a possible savior of the entire family, if not the village itself. But, as Tom said, he would never be happy with another woman as long as Mary Crawley walked the face of this earth. During their kiss prior the night before their wedding, Mary cheated, opening her eyes to gaze and then grin at her husband to be. 
I just can't help but think that starting their marriage with a looming financial crisis over their heads, and one they were at odds over, can possibly mean good tidings for the enamored couple. Their relationship has been rocky at the best of times, and all the talk of saving the family when they disagree over the morality of the method is troubling.
Edith has fallen so far in love with Sir Anthony, and what Lord Grantham did to try to keep them apart was just horrible. Edith is always the overlooked daughter. Even when she was practically running the convalescence hospital in the Abbey, her work was overlooked as the other daughter's shined. I want her to find happiness. Finding it with an older man was hardly a scandal in that day, was it? As she rightly pointed out, half the men of a suitable age had been killed in the war. If she found love and it was real, how could her loving father stop it?
Speaking of love, as much as I have always been a fan of Anna and Bates, his being in prison is draining. I wanted her to have a fantasy love story and this is not it. I just wanted a little bit of romantic happiness for them and one night wasn't enough. They cannot clear up this story fast enough for my taste. Just being in prison is turning Bates into a thug. If he stays in there too long, it could be too hard for him to leave that behind.
I've never thought much about the fate of people who found things like lumps in their breasts when surgery was in its infancy. Mrs. Hughes and Mrs. Patmore were so engaging as friends, and it was perfect that Patmore never let her sense of humor disappear while she supported her friend. Pointing out it's better to spend money on a doctor than on a funeral? CLASSIC. 
Was anyone else secretly cheering the fact Miss O'Brien finally noticed Thomas is not a knight in shining armor? Again and again that woman was willing to lay her own future on the to protect him, but when her own kin was in the line of fire, it seemed to knock her out of her stupor. As characters come and go on Downton Abbey, I keep waiting for Thomas to pack his bags or have them packed for him.
One last very important note from the premiere: now that I've seen it done Downton style, I see no reason my own wedding, better late than never, shouldn't consist of me being cheered on as I ride through the cobbled streets of a small British village in a lovely covered carriage to a gorgeous historical church. A girl can dream, right?!
So what did you think of Downton Abbey's return? What are your wishes for the season? There was a major, series changing development that can be read in the Downton Abbey spoilers section, but please, please don't look if you're not absolutely sure you don't want the series affected before you're ready. You've been warned!
Carissa Pavlica is the managing editor and a staff writer and critic for TV Fanatic. She's a member of the Critic's Choice Association, enjoys mentoring writers, conversing with cats, and passionately discussing the nuances of television and film with anyone who will listen. Follow her on Twitter and email her here at TV Fanatic.